Celebrate with Daria and Donate Now!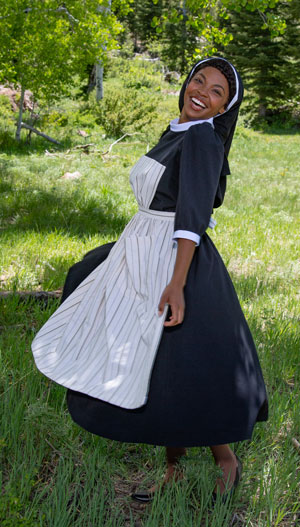 A Message from Actor Daria Pilar Redus
It is an honor to step into the shoes of one of the world's most warm, vibrant, and lovable theatrical characters—Maria von Trapp. For so many of us, The Sound of Music feels like home. It's familiar, comforting, and filled with all of the nostalgic tunes that continue to touch our hearts. It is an integral part of this season's celebration of the gift of music, and I am eager to continue sharing these enchanting stories with you. To help in that collaborative community effort, I am asking you to donate to the Utah Shakespeare Festival today.
To me, the story of The Sound of Music is about embracing the things that matter most in life—family, courage, love, and (of course) music. In this play we witness its ability to bring youth and joy back into the lives of the von Trapp children, freedom into the life of Maria, and a lovely tenderness back into Captain von Trapp.
For me, the mountains of Cedar City have been my second home for a number of years now. I've often dreamt of singing amidst these hills and exploring their extravagance, and I'm grateful to have the chance to do so on stage for all of you. "I go the hills when my heart is lonely. I know I will hear what I've heard before. My heart will be blessed with the sound of music, and I'll sing once more."
Your generosity and donations allow our beloved Festival to continue bringing some of the world's best theatre to this community. Join us in celebrating yet another dynamic, magical season by donating today.
Watch This Short Video of Daria
Celebrate with Daria and Donate Now!