News From the Festival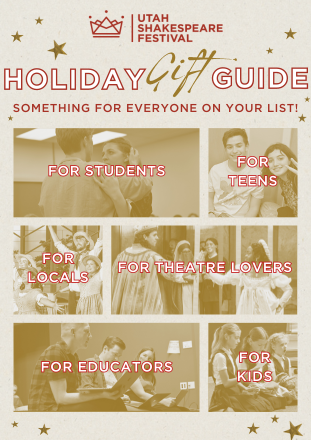 Looking for the perfect gift for ALL your loved ones? Give the gift of live theatre this season!
It's not too early to purchase tickets for the 2024 season of the Utah Shakespeare Festival. The play lineup for the 63rd season includes Shakespeare's Henry VIII, The Winter's Tale, The Taming of the Shrew, and Much Ado About Nothing, along with the hilarious The 39 Steps, the moving Silent Sky, and the inspirational The Mountaintop. 
Here's our gift to you this season: deals and discounts! Check out the information below and enjoy the same brilliant plays while also saving some money. 
If you're looking for gift ideas for students and lifelong learners, check out details about our educational offerings below. 
To purchase tickets and take advantage of these discounts and educational offerings, and for more information, call the Festival Ticket Office at 800-PLAYTIX or visit bard.org/tickets.
For Anyone
Gift Certificates can be purchased from the ticket office in any amount. These make the perfect stocking stuffers!
For Students and Children 
The Student Access Pass is an amazing deal and available for only $40. It allows students one ticket per performance for an unlimited number of performances throughout the season.
This steal of a deal isn't just for Southern Utah University students here in Cedar City, but for students of any kind and any location. Other higher ed schools, high schools, middle schools, elementary schools, and home-schooled students qualify for the deal. Having a student ID or proof of student status on hand while calling the ticket office to purchase the pass is the fastest way to get this deal!
The pass can only be redeemed for one ticket per student per show on the day of the performance, but is good for as many performances as you wish during the season. The tickets are subject to availability and exclude premier seating. The pass can't be refunded or exchanged, and it expires October 5, 2024. 
Not interested in the student pass? Youth between the ages of six and eighteen get $10 off any single ticket with a valid student ID or proof of student status. As a reminder, children under six are not permitted in our theatres. Professionally-staffed child care is available for our youngest friends. 
For young thespians, don't miss out on our summer youth camps! Check out Playmakers Summer Camp from June 10-22, Junior Actor Training from July 15-20, and Theatre Training for Actors and Technicians from July 22-27. 
For School Groups 
Need a really unique gift for students or teachers in your life? Schools and education groups of 12 or more can enjoy a professional play, orientation, and other experiences with the Festival's Shakespearience program. This special offer is available for schools and education groups for any matinee Monday-Friday, August 1–September 27, 2024. 
Shakespearience excludes premier seating and is subject to availability. Pricing is $10 per person for Utah public/charter school groups, and $15 per person for private and out-of-state school groups. 
School groups can also join us for our two USF School Days in 2024. On September 5 and 11, Utah public and public charter school groups can attend the matinees of Much Ado About Nothing and Silent Sky for free!
For Locals
Iron County residents may also purchase the Iron County Pass for $200, which may be redeemed for seven admissions throughout the season. Proof of residency and an ID is required when purchasing, and residents are limited to two passes per resident. This pass expires October 5, 2024 and excludes premier and center orchestra seating. 
To look forward to next summer: residents of Iron, Beaver, Washington, Kane, Garfield, Piute and Lincoln (Nevada) counties can purchase single tickets for 50 percent off. Tickets must be purchased on the day of the performance. 
For Educators and Adults
Teaching artists can be arranged to visit Utah public and charter schools to lead free workshops and events. Request a workshop from our PlayTeam here. 
Give the gift of learning this season. Adult courses are offered throughout the season, where participants receive Southern Utah University professional development credit for attendance at plays, seminars, and orientations. Courses include: Shakespeare Survey, Shakespeare Forum, Shakespeare Seminar, Teaching Shakespeare, and Tech for Teachers. 
Other Discounts and Offers
For groups of 12 or more, a discount starting at $4 per ticket is available. 
For those that are 62 years and older, AAA members and members of the military, a $2 discount per ticket to any performance is available. 
For those with sensory or accessibility needs, Sensory-Friendly and All-Access performances will be offered during the season. Live American Sign Language Interpretation services are scheduled to be provided as well. Dates to be determined soon. 
For more information on ticket prices and seating, plays, educational resources, or any other questions regarding the Festival, call the ticket office at 800-PLAYTIX or visit bard.org.