10 Things You May Not Know about The Tempest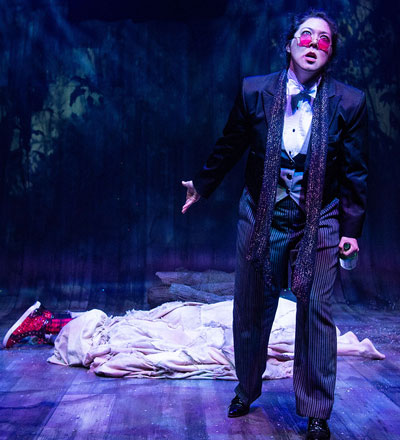 By Liz Armstrong 
Shakespeare's last romance, The Tempest is brimming with magic. Full of fairies, monsters, and shipwrecks, this play encompasses themes of love, harmony, and redemption. Before you see this fantastical and fun play, check out the fun facts below. 
1—Prospero battles with fitting into society, as well as knowing when to retire. Because this is one of Shakespeare's last plays, many believe this to be a reflection of the playwright's inner struggles as he neared the end of his career. 
2—Shorter than even A Midsummer Night's Dream and A Comedy of Errors, The Tempest is one of Shakespeare's shortest plays, coming in at just about 17,000 words. Hamlet, Shakespeare's longest, boasts almost 30,000 words.  
3—Romeo and Juliet inspired West Side Story, while Lion King, reflects Hamlet's themes. So what did The Tempest inspire? Yellow Sky, a 1948 Western film seems to fit the bill. 
4—Ever wonder why it's called The Tempest? The play is named after the storm that occurs during much of the first scene. 
5—Shakespeare is said to have introduced over 1,000 words and phrases into the English language, so let's take a peek at what he coined in this play. "Into thin air," "brave new world," and "in a pickle," seem to have been popularized from The Tempest. 
6—The shipwreck in Shakespeare's play may have been based off of a real one in 1609. William Strachey wrote A True Reportory of the Wracke and Redemption of Sir Thomas Gates, Knight and many believe the playwright took inspiration from this account.
7—Of the twenty-seven known moons of the planet Uranus, twenty-four are named after characters from Shakespeare's plays, and The Tempest provided the inspiration for the names of several—more than any other play. Curiously, Ariel isn't one of them. There is such a moon, but it was named for a character called Ariel from Alexander Pope's poem "The Rape of the Lock."
8—The first recorded performance of the play was before James I for his royal court in 1611 at Whitehall Palace.
9—The Tempest has been adapted into a startling forty-six operatic productions, the first being a semi-opera in 1695 by Henry Purcell. 
10—Many times, Miranda is the only human female character in The Tempest, which means it has the fewest female characters of Shakespeare's plays. However, many productions cast Ariel as a female, and several companies, including the Festival this season, have reimagined Prospero as a woman.