Elizabeth Telford- Guest Blogger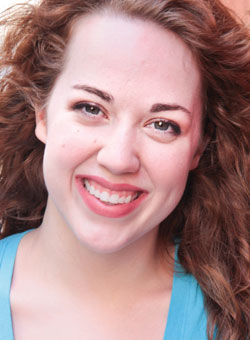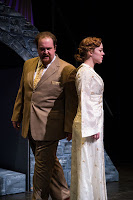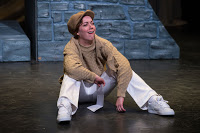 Elizabeth Telford (Lady Capulet)
Meet our Lady Capulet, Elizabeth Telford
Where did you grow up? Where do you currently live?
I grew up in Duluth, Georgia, not far from Atlanta. Since graduating college, I've just flown from contract to contract, so I'm a bit of a nomad. 
Have you ever been involved with Romeo and Juliet before?
I have! I played Juliet in college. I'm thrilled to be part of this production. 
Thomas Novak (left) as Capulet and Elizabeth Telford, Romeo**and Juliet.
What are you looking forward to the most about this tour?
I am looking forward to the opportunity to grow and learn from everyone involved, and I am excited to share Shakespeare with the future generation of theatergoers! 
What do you hope to contribute or give to young audiences during this tour?
Elizabeth Telford as Peter in Romeo and Juliet.
I hope we can give them an experience that they remember, that we can make some kind of positive impact on their life. Perhaps we can even make Shakespeare a little more accessible and a little less scary to a few kids.
What are you hoping to personally learn?
I hope to continue to grow as an actor alongside these incredible performers. 
What are some of your favorite hobbies?
I love arts and crafts. I love to paint, draw, and make paper flowers. 
Why do you think art in general is important?
I believe that art is vital to life, and that giving kids a taste of theatre can set them up for success in all kinds of ways. The freedom of expression gives kids confidence and gets them thinking for themselves while still working as a group to achieve a common goal.
To learn more or see if the Tour is coming to your city, visit this page on our website- 
(Photos by Karl Hugh. Copyright Utah Shakespeare Festival 2013.)