Thomas Novak- Guest Blogger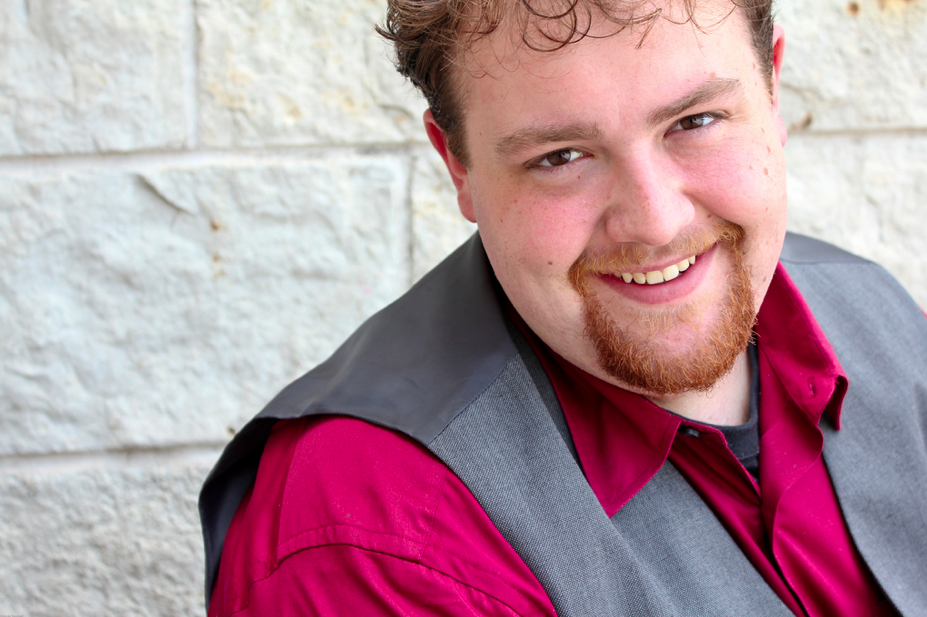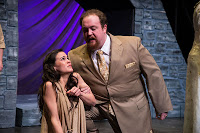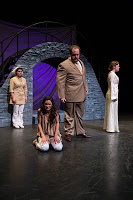 Thomas Novak (Capulet)
Thomas Novak plays Lord Capulet in our tour production of Romeo and Juliet.
Where did you grow up? Where do you currently live?
I grew up in Long Grove, IL located in the northwest suburbs of Chicago. I still currently live there.
Pereyra (Juliet) and  Novak (Capulet)
Have you ever been involved with Romeo and Juliet before?
I have never been involved in Romeo and Juliet before. I read the play back in high school. In college, I studied Shakespeare and worked on scene work from various plays. Lord Capulet is actually my first role in a Shakespeare play.
What are you looking forward to the most about this tour; why did you want to become involved?
Zientek (left) as Nurse, Pereyra as Juliet, Novak as Capulet, and Telford as Lady Capulet
Being on the road is great so far. There are any reasons why I wanted to be involved. One is to be in a Shakespeare play. Another is the teaching aspect; theatre that drives education is important to me. One of the ways we get people to go to the theater when they're older is by taking them to a show when they're younger…especially with Shakespeare. It needs to be a positive experience or they will never go again or, perhaps, dread going. The last reason why I wanted to be involved with this tour is because performing and traveling sounded like a thrilling adventure. I love to travel and act, and it sounded like the best job ever.  
What do you hope to contribute or give to young audiences during this tour?
The overall thing that I hope to give to a young audience is that Shakespeare is fun and really relatable, even though it is over 400 years old. Another thing is that Shakespeare was meant to be seen and heard, and so many people forget that. Although it is very scholarly, it isn't purely academic. It's also a lot of fun.   
What are some of your favorite hobbies?
I love to dance and sing. When I have nothing to do I usually try to do something creative like paint, draw, build something, write a play, or read a play.
To learn more or see if the Tour is coming to your city, visit this page on our website-  http://bard.org/education/tour.html