Playmaker's The Wizard of Oz Cast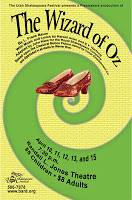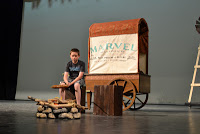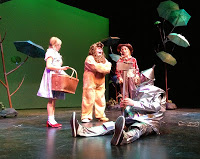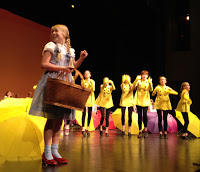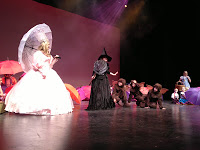 This week, the Festival's Playmakers opens The Wizard of Oz. We caught some of the cast right before their first dress rehearsal.
Duncan as Professor Marvel
Bailey Duncan is in 5th grade at Three Peaks Elementary. Last summer, he played Dill in the Festival's production of To Kill a Mockingbird. He plays Professor Marvel and the Wizard of Oz.
Allen, Espinoza, Kraus and Denhalter
Tell me about Wizard of Oz
I'm the big and great guy. My character relates to Professor Marvel in Kansas who Dorothy would like to go along with because he's a gypsy and travels around and she's running away. He doesn't want her to come along, but he doesn't say that. He says "sure but I have to check with my crystal first" and tricks her into thinking that Auntie Em is sick and could possibly die and that's what makes Dorothy want to go home.
What's the hardest part?
Probably the words. The Wizard speaks a lot of Latin, but I can usually figure it out.
How have you developed as an actor since last year?
Allen and Ensemble
I think I've gotten a lot bigger voice and gotten a lot better with people.
Nick Denhalter plays the Tin Man. He's in the 9th grade at Cedar High. Last summer, he was in the Festival's production of To Kill a Mockingbird, playing Jem.
What's the hardest part of this role?
Staying real stiff - the physicality. I have to lock my knees to make sure I don't move. My English teacher told me how The Wizard of Oz compared to the job industry of the time. With the farming industry a lot of them were uneducated, so the scarecrow not having a brain, the metal industry/Tin Man - greedy - not having heart, the Lion was about politicians - cowards. She showed me how it connected, which really helped.
How does this compare to last summer in Mockingbird?
Since then my diction has gotten a lot better. At the beginning of the summer season I got lessons from David Ivers because I was fading and not getting the words across with my accent. It really helped me and he was so great. I'm in debate now, which also helps.
Lauren Allen plays Dorothy. She's in 8th grade at Cedar Middle School. Last summer she was in the Festival's production of The Merry Wives of Windsor and she played Amaryllis in The Music Man in 2011.
Tell us about Dorothy
It's my first lead role. I love the play and I love how we've done it. It's different from previous shows. We can't just take the movie because it's iconic. We did our own thing and it's worked.
What's the hardest thing about this role?
The character - She's not a "character," she's a real person. She's closely related to my personality. So it's hard to differentiate her from me - what she would do versus what I would do. I have to be careful about that.
A scene from The Wizard of Oz
What do you do outside of school and acting?
I take dance, theater, voice, and piano. I love performing - it will always be a part of what I do. It might not be the only thing I do. It can be anywhere - singing in church or performing in a play. And this summer, I'm playing Jane Banks in Mary Poppins at Tuachan.
You can see this imaginative production, featuring over 70 local children April 10, 11, 12, 13, 15 at 7:30 pm in the Randall L. Jones Theatre. Tickets can be purchased at www.bard.org or by calling 435-586-7878. You can learn more at http://www.bard.org/news/releases/wizardofoz.html