B.J. Jones and The Tempest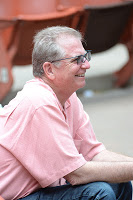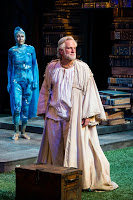 B.J. Jones is the director for The Tempest. Previously at the Festival, he has directed Twelfth Night and Much Ado About Nothing. He has spent fifteen years as artistic director at Northlight Theatre in Chicago, where he directed the world premiere of Stella and Lou with Rhea Perlman and has worked at numerous other theatres.
He shared his thoughts during the first dress rehearsal of The Tempest*.*
Storm scene from The Tempest, 2013
As I await my first dress rehearsal for The Tempest at the Utah Shakespeare Festival, I have been working on Animal Crackers for Baltimore Center Stage which will start rehearsal August 6th.
I've already reviewed my notes for our next rehearsal tomorrow, and in those 10 hours we will have to review our work from last Friday night, run as much of the piece technically as we can in the 90 degree Cedar City sun. After a brief dinner break, the cast will put on their costumes and in some cases extensive make up, and we will run the play with all the bells and whistles. There are a lot of bells and whistles in our Tempest. A little magic, a little illusion, monsters and sprites, royalty and soused servants, and a pair of fathers yearning for the best for their children.
Parrett (Ariel) & Woronicz (Prospero) 2013
Today is the day after Father's Day so perhaps it's touching me a little more deeply today. Most importantly for me this play is about forgiveness and looking ahead to the future with hope.
The cast is marvelous. All of them are doing double and triple duty playing other roles in the repertory and understudying as well. It is a strenuous season of work for any actor and they are amazing to watch and admire. I give them pick up notes and they include the adjustments as we press through the scenes grasping at every precious moment to get the play into their bones. They are ravenous in their work and seemingly tireless and while I await our next time together, they are performing another play! It's really a miracle of professionalism and finely tuned skills.
We also will be throwing some new props and tricks at them tomorrow and like the pros they are I expect them to include them as effortlessly as they have all rehearsal. We only have 2 dress rehearsals, and then 2 previews, so we have to work fast and shrewdly deciding what works and what doesn't, scaling the work for our audience and inviting them into the process as our scene partners.
Tracy Letts who won the Tony for Best Actor this year, said in his acceptance speech that "this is the greatest job on earth, we are the ones who say it to their faces, a unique responsibility." Tracy was of course talking about truth and we are charged with that task. There is such searing truth in The Tempest and in the next two weeks before you join us we will continue to strip away at the artifice in order to expose Shakespeare's truth, through poignancy, hilarity, and gorgeous language.
I have fallen in love with the cast and of course the Festival. I would love to stay on a week or so and luxuriate in the artistry of these fine artists. But there is work to be done, and gratefully other audiences to serve.
It is a remarkably busy stretch for me and I am privileged to work on these wonderful pieces and to execute them with such gifted artists.
The Tempest opens on July 2 and runs through August 31. You can purchase tickets online at www.bard.org or by calling 800-PLAYTIX. You can learn more about the play and cast at http://www.bard.org/plays/tempest2013.html.