Melisa Pereyra in The Tempest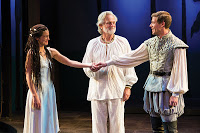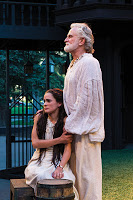 Melisa Pereyra is at the Festival for her second season. Last year she played Lavinia in Titus Andronicus and Zerbinette in Scapin. She also played Juliet in this year's Educational Tour production of Romeo and Juliet. We are very excited to have her with us again and spent some time getting to know her.
The Tempest 2013, Pereyra, Woronicz, Burris
Where's your home base?
Originally, I'm from Buenos Aires, Argentina. I moved to the States when I was almost 15 and lived in Idaho Falls, Idaho through high school. I then got a full ride to attend Utah State University. Currently, I don't have a home base. Jeb Burris (my fiancé) and I graduated last May from Illinois State University with our MFA in classical acting, where I had the privilege to study Shakespeare under Henry Woronicz. Once we graduated, we sold our furniture and traded our tiny little car for a Jeep, packed up our car and said, "Let's do this acting thing!"  We've been lucky enough to find employment over the past year traveling all over the country, and we couldn't be more grateful.  
The Tempest 2013, Pereyra, Woronicz
Tell us about playing Miranda.
There's something so surreal about discovering this role with the person that I actually love and with somebody who has taught me how to speak Shakespeare playing my father…on that level it's emotionally overwhelming. (Jeb Burris is playing Ferdinand and Henry Woronicz is playing Prospero). Whenever we get on stage, Jeb and I can't stop crying from happiness. It's just so great to be able to bring that kind of life onto the stage. There is a life experience that you can't fabricate, from the heart,that we actually get to experience and share with our audiences. That in itself has been one of the greatest things about playing this role.
Miranda is so strong, and she's incredibly open and in touch with her heart and what she feels. I think that she is a survivor. Her father, Prospero, has prepared her to be strong and be able to survive whether he's with her or not. I hope that people do not expect just a girly girl in love. She knows what she wants when she sees it. When she sees Ferdinand, she feels so much for him. Although she may not fully understand how to 'properly' express herself according to the ways of the world, she knows that what she feels is real and true and has no qualms saying exactly how she feels to his face. It's important that people know she's not just a little girl that's lost and naive. She is her father's daughter and you can't separate the two. Prospero's strength, determination, and anger–as well as his compassion and love– live within her as much as within him. That's what we've been working toward over the last couple of months.
What are your thoughts about the Festival?
I love it here. There is something very special about making theatre under the stars. The people who work here are exceptional. And I think that Brian and David do such a great job about bringing the right personalities together. It's not just about the work we do on the stage; but also about the kind of people we are off the stage.
Why do you think live theatre is important?
As storytellers, we carry such great responsibility. As a child, I didn't grow up with much but I always had my imagination. As an adult, I was lucky to study with another wonderful man, Paul Dennhardt, in graduate school who helped me remember that my imagination can be alive no matter how old I am. That I can always play hide and seek. That I can giggle until my stomach hurts. And that no matter what you've lost, you'll always gain something by clinging onto your imagination. I want to pass this on to our audiences thru every play I do, to old and young alike. I want everyone that comes to see our shows this summer to cling on to their imagination. Live theatre is a great place for that and that's why it's important.  
Now, why it is important for me…I don't have any other thing I love to do more, and I don't have any other thing that challenges me as much as this and that keeps me honest as much as this. I'm a better person because of theatre, the way it has pushed my personality and my insecurities as a human being, I don't think I could have found anywhere else. The people we're surrounded by are so wonderful and so open, so welcoming. I found the love of my life and dear, dear friends on my journey as an artist. At the same time, I left–and continue to leave–a lot of my family behind on another continent and all over the U.S because of the kind of work I do. However,  because of live theatre, I have a new family wherever I go. For those reasons, I can't think of a more important thing for me to do and continue doing.
You can see Melisa in The Tempest beginning July 2 through August 31. You can purchase tickets online at *www.bard.org*and by calling 800-PLAYTIX. You can learn more about The Tempest at http://www.bard.org/plays/tempest2013.html
Photos by Karl Hugh, copyright Utah Shakespeare Festival