Martin Kildare as Juror #8 in Twelve Angry Men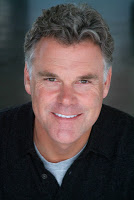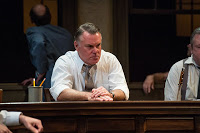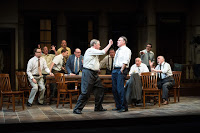 Martin Kildare returns for the 2013 season, playing Juror #8 in Twelve Angry Men and Antonio in *The Tempest.*bHe was originally here in 1988, and met his wife Mary here in 2002. Last year he played Atticus Finch in To Kill a Mockingbird. We talked with him about this pivotal role in Twelve Angry Men.
Tell us your thoughts on playing Juror #8.
What I think is really nice about the play and approaching Juror #8 is that it's a discovery process. Juror #8 has not made up his mind based on the court proceedings. It's raised questions for him. And the journey of the play is figuring that out, asking those questions and discovering the probable truth. Truth is not absolute. So it's very active and it's all discovery in the face of a lot of opposition. And I think that's a good way to be. A lot of times these issues come up for us in society and we think we know our opinion. Maybe it's good to remind ourselves maybe there's something to learn from opposing viewpoints. We need to have a willingness to entertain opposing views.
We understand the show will run with no intermission?
Yes. Both David Ivers, the director, and the cast felt it was important to keep the mood. If the jury can't leave the room, an intermission wouldn't work. So instead, after every performance, there will be a 15-minute break to grab a snack or beverage and then a talkback where 2 - 3 actors will answer the audience's questions.
How did you become an actor?
I went to Stanford University and majored in English. And then I got my masters from American Conservatory Theatre in San Francisco. I always knew I wanted to be an actor since I was 6 years old and listened to Bill Cosby records.
My father thought I should do something like the law. So I majored in English. My love of the theatre is putting literate things on stage. I like to listen to the language. I'm a strong believer in a liberal arts education, particularly for an actor. You're acting human experience.
What are your thoughts on the Festival?
My bucket list is the Utah Shakespeare Festival. It's my favorite theatre. I've been all over. I just love the company, I love the vision, I love the location, and I love the interaction with audience.
What's so wonderful about the Festival is that after the show on the bricks or at the seminar the next day or at the Pizza Factory, people will come up to you and say "I've wondered about this…" the conversation continues. That's what they've created here. They've created that expectation with the audience. It's very rewarding for me to have the opportunity to continue that conversation.
My favorite thing - I was crossing the street and a woman shouted out to me "you're the reason my kids like Shakespeare." It was the nicest thing anyone has said to me. It's unplanned but that generosity that we give of ourselves on stage comes back. They are as generous, as open, as interested.
You can see Twelve Angry Men through August 31. Tickets are available online at www.bard.org and by calling 800-PLAYTIX.
You can learn more about the play at http://www.bard.org/plays/twelveangrymen2013.html
Photos by Karl Hugh. Copyright Utah Shakespeare Festival 2013
2013 Twelve Angry Men, Kildare as Juror #8
2013 Twelve Angry Men