Melissa Graves in Love's Labour's Lost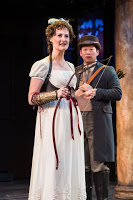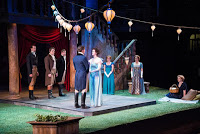 Melissa Graves is new to the Festival this year. She did her undergraduate work at Ohio University and earned her MFA at the University of Houston. She focuses on classical work and has performed most recently at the Illinois Shakespeare Festival and Milwaukee Repertory Theatre. We spoke with her about her role as the Princess of France in Love's Labour's Lost.
Have you played this role before?
2013 Love's Labour's Lost, Graves and Tai
I have never done the play before, but I've always enjoyed the show, especially the princess. In searching for audition monologues, I was always drawn to her words; the last big speech that she has I've had in my back pocket for a while. I originally learned it for a school project. I have also worked with Laura Gordon before (director of Love's Labour's Lost) at American Players Theatre and at Milwaukee, so she was a good advocate for me here.
Tell us about the Princess.
2013 Love's Labour's Lost
She's very witty and playful, and I think she discovers this within herself during the play. She is royalty and she was built to be a queen; it's in her blood. You see these wise moments throughout the show, and it's so important to show that side of her. I think she's wonderful and beautiful. She wants to be in love and young and fresh, but she's also incredibly grounded and wise.
The production is set in the Regency period?
It's set in a more romantic period - the 1800s. I haven't done traditional Shakespeare recently. So it doesn't feel odd to have it in a different period. What I like about what Laura has done by setting it in the Jane Austen period is that it sets up the societal rules that we have to follow that then you can break. You set them at the beginning and then break them almost immediately and in breaking them is the play. I think that the comedy still lends itself to any period and the wit that Jane Austen has in some of her women helps with that.
What's it like to perform Shakespeare - the language, helping the audience understand?
He's such a fantastic writer. The lesson I continue to learn is that it's all in the language. Staying in the text and on top of the text provides you everything that's necessary for playing the part and telling the story. And as simple as that is to say, it's really hard to do. I am continuing to learn that. I learn it every time I perform. It's all there. I love speaking his words. And while I continue to be cast in classical roles I choose it just as much. The endless amounts of searching and discovery is wonderful and is certainly what draws me to this work and this career.
What are your thoughts about the Festival?
The Festival has been at the top of my list for so long. The reputation precedes itself. I have done classical work for a long time and this is a place to do good classical work. Any actor that I admire has worked here.
Why do you think live theatre is important?
For me, as someone within it, you're required to be empathic in order to understand the roles that you play. And with the opportunity to play so many different roles, it provides the opportunity to have different perspectives on so many scopes of life, and I feel like I'm a better human being and I have a better understanding of humanity. I imagine and hope it's the same way for an audience member.
You can see Melissa in Love's Labour's Lost from July 1 through August 31. Tickets can be purchased online at www.bard.org and by calling 800-PLAYTIX.
You can learn more about the play at http://www.bard.org/plays/loveslabours2013.html
Photos by Karl Hugh. Copyright Utah Shakespeare Festival 2013