Barbara Jo Bednarczuk as Cindy Lou in The Marvelous Wonderettes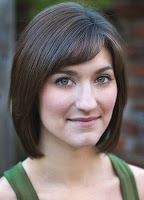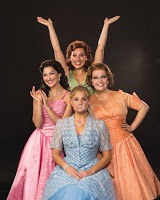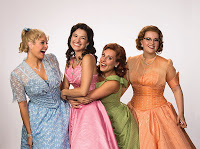 Barbara Jo Bednarczuk is back at the Festival for her fourth season, playing Cindy Lou in The Marvelous Wonderettes. Last season, she played Eponine in Les Mis, and she appeared in The Music Man in 2011 and Pride and Prejudice in 2010.
Bednarczuk (left, then clockwise) (Cindy Lou), Storrs (Betty Jean), Cook (Missy), Cozzens (Suzy)
Have you played this role before?
I have not. One girl in our cast who's playing Betty Jean - her name is Natalie Storrs - played the role of Betty Jean before and Cindy Lou, so this is her third production. The rest of us are newbies.
When does it take place?
The first act is 1958 at our "super senior prom" and the second act is 10 years later in 1968 at our ten-year reunion.
Cozzens (left) as Suzy, Bednarczuk (Cindy Lou), Storrs (Betty Jean), Cook (Missy)
Tell us about characters…
There are two sets of "best friends": Cindy Lou & Betty Jean and Missy & Suzy.
Cindy Lou - my character is the vice president or president of every club. She's the pretty girl, and loves it. She wants nothing more than to be prom queen and thinks she will be. That's who she's been her whole life and that's who she's been groomed to be by her family.
Betty Jean is the total tom-boy. She will say inappropriate things and make inappropriate sounds at any given moment. She's a goof ball. They're a good balance for each other.
Missy is the teacher's pet. She will do anything to be the biggest brown-noser but she has a good heart. She doesn't do it out of spite, that's just who she is.
Suzy is desperately in love with her boyfriend. And she wants everyone to be happy all the time because she's happy. She thinks everything is funny.
How did you prepare for the role?
I've never done anything in this time period before. It was fun to do a little research. It's been nice to listen to the first recordings of these songs we're singing. That gives you the attitude of the era, what was acceptable and what wasn't.
No matter the era, those personalities translate. That's what's important about the 2nd act. You see how those personalities grew up a little bit, how they changed. Everyone changes in a different way - you can still see who they are underneath.
What have you been doing since Les Mis last year?
I went back to NYC - my home base - and got on the national tour of Spamalot. It's Monty Python and the Holy Grail in a musical. I was on the very end of the national tour. I traveled to over 30 different states in less than 5 months. I was very excited when I got to sleep in my own bed. I got to live in NYC and audition during the summer - my first summer not here in a few years. I got to spend time with my family in Ohio, which was really nice.
I'm very excited to be back here. After touring and seeing different audiences, it's wonderful to be back here. The people here love the theatre and love the people who work at the theatre. They appreciate and respect the work.
The Marvelous Wonderettes opens September 21 and plays through October 19. You can purchase tickets online at www.bard.org or by calling 800-PLAYTIX. You can read more about the play at http://www.bard.org/plays/wonderettes2013.html.