Schoolhouse Rock with Michael Bahr and Josh Stavros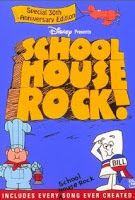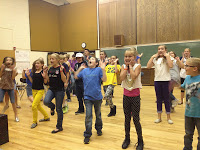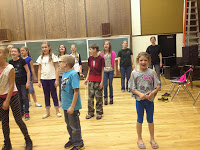 This fall, the Festival's Education Department is switching things around. Instead of a Playmakers where the local schools come to the Festival for a performance, they're taking Playmakers to the schools with a production of Schoolhouse Rock. During November, Schoolhouse Rock will perform for five Iron County schools.
Tell us about Schoolhouse Rock.
Rehearsal
Michael Bahr: Schoolhouse Rock was very popular during the 70s and 80s.
Josh Stavros: It was originally a series of television commercials, cartoons, that would air on Saturday morning on a number of different educational topics: How a Bill Becomes a Law, Multiplication, History, Parts of speech, etc.
Bahr: My daughter knows the preamble of the Constitution because of the song, "We the people…"
Rehearsal
Describe the production.
Bahr: We're taking a group of 33 kids and we're performing the music of Schoolhouse Rock: it's 14 songs and 45 minutes long. These songs are very catchy while teaching great lessons. They have great resonance with a crowd.
What do the performers learn?
Bahr: It's really great training ground if you're trying to teach someone how to act, sing and dance. Which is harder - tour or production? They both bring different challenges and they teach different things to the kids.
Having a touring production, I can teach kids how to set up, how to walk in and perform in a different space. That's a very different skill set. During auditions we told the parents "it will be your job, parents, to get them to the schools, to rehearsals at this time." This is an experiment; there is no lead here. This is an ensemble piece. All the kids perform every time. The youngest is 8 and the oldest is 17.
Who are some of the performers?
Stavros: Some names familiar to Festival patrons would be Britton Gardner (Gavroche in Les Mis), Bailey Duncan (Dill in To Kill a Mockingbird), as well as Eliza Allen and Kailey Gilbert who were fairies in Midsummer.
How is this program funded?
Bahr: SUU's Beverley Taylor Sorenson College of Education funds this via the Center for Innovative Education. This is money given to SUU specifically for educational outreach.
Any closing thoughts?
Bahr: I know the kids will love it - it's high energy and interactive. The teachers will love it - they'll probably sing along. And I don't want to minimize the training opportunity with this group of 33 kids. Every kid sings, every kid dances, every kid is part of an ensemble. Every kid will tour.
My first dream is to take these students out touring in the schools. And the second dream is that we can tour all year because it provides training for those that are performing and curricular engagement for audiences. We can provide a construct for them to have conversations about the educational material.
You can find examples of the Schoolhouse Rocks cartoons on YouTube. Here's the link for the Preamble to the Constitution: http://www.youtube.com/watch?v=30OyU4O80i4
and Nouns http://www.schooltube.com/video/21001073474c19344891/.
You can learn more about the education programs of the Festival at http://www.bard.org/education/index.html