The Comedy of Errors Chris Amos (Dromio of Syracuse) and Aaron Galligan-Stierle (Antipholus of Syracuse)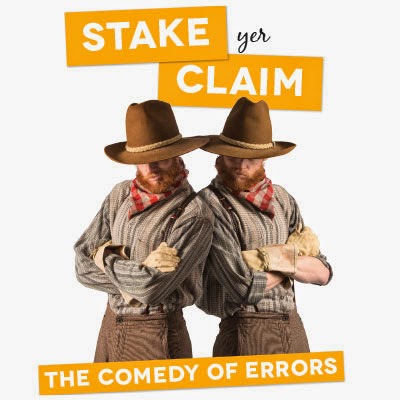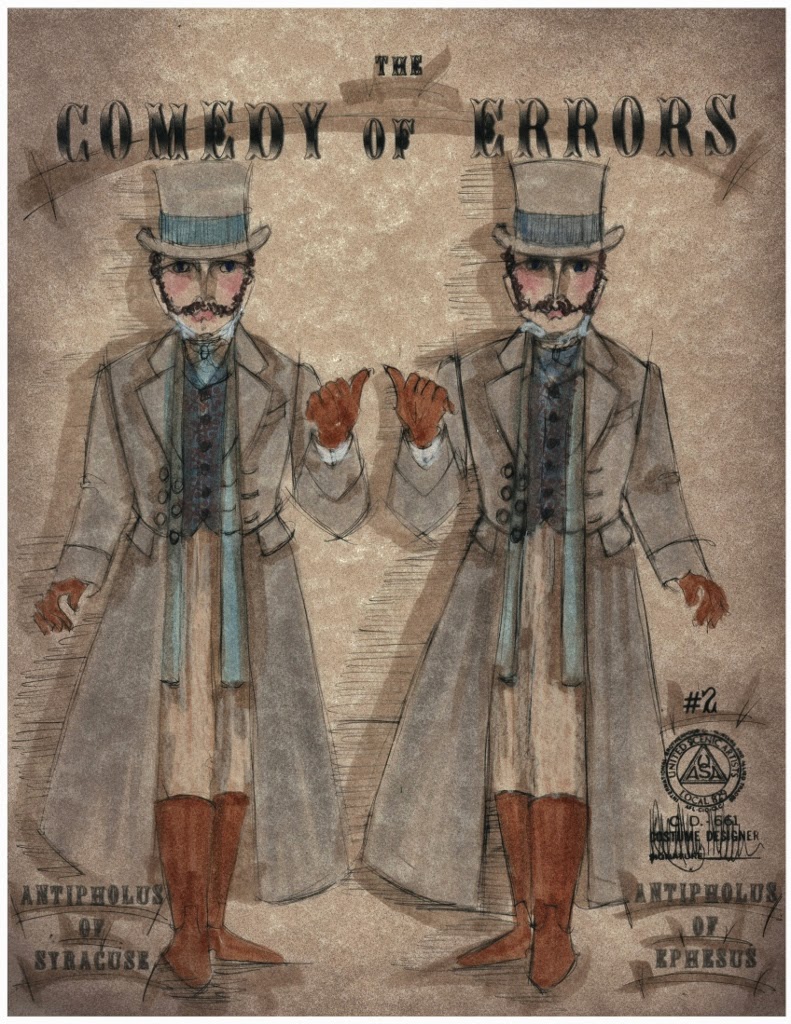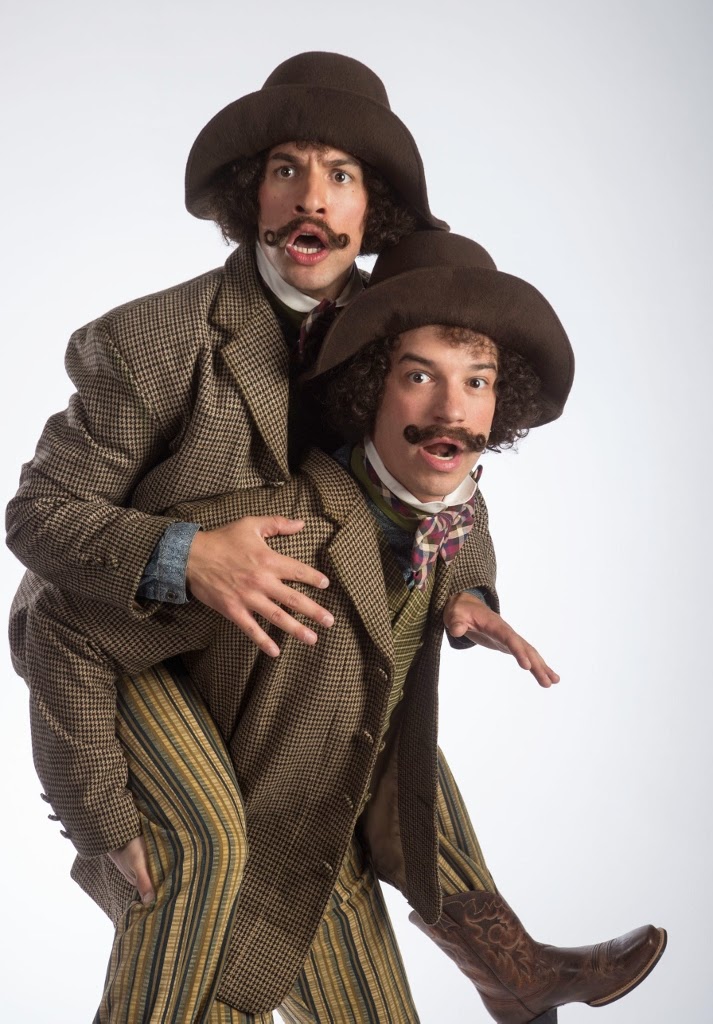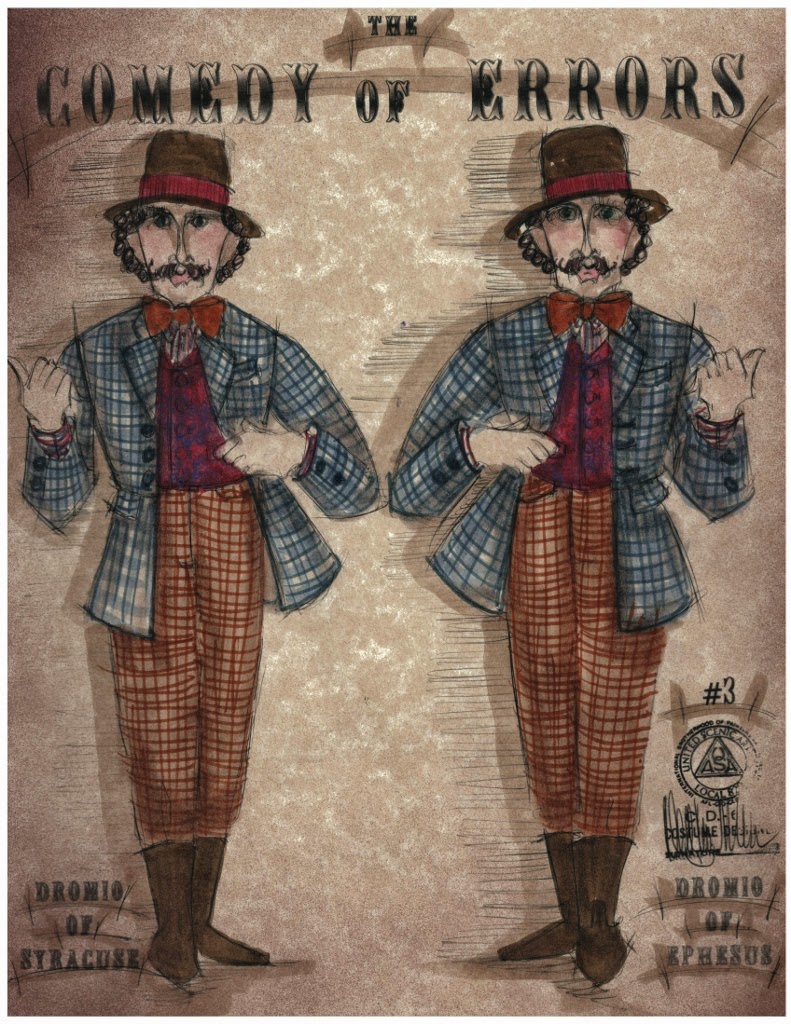 Chris Amos, based in Chicago, is in his third season at the Festival. Last year we saw him as Slank inPeter and the Starcatcher and Pembroke in King John. Aaron Galligan-Stierle is in his sixth season (over a ten year period). Last year he played Smee in Peterand Lord Evelyn Oakleigh in Anything Goes.
This year, they are each one part of a set of twins in The Comedy of Errors, master (Dromio) and servant (Antipholus)
Tell us your thoughts about setting this production during the California Gold Rush.
Chris:    I think the concept is brilliant. It's a man in search of himself through other people. During the gold rush period there were people from all over the world. What better place to look for somebody than the place everybody else is going?
Costume Sketch by David Kay Mickelson, Antipholus
Aaron:    I've been taken by how well it fits. As you read the text, you see how many references there are to gold. It's been really fascinating; it doesn't feel forced. This feels totally natural to me.
We're doing our best to always honor Shakespeare and hopefully be able to let audiences experience this particular play in a new way. It's the same thing as when two different actors say the same speech, you hear different things.
Talk about your character:
Chris:    It's a play about identity and the confusion of what you think about yourself versus what others think about you. It's amplified in this situation with two people who are confused with each other. My character, Syracuse, is on this voyage to find himself. He has such a loose idea of who he is that he's easily swayed by these strange circumstances.
Fristensky & Galligan-Stierle as the Dromios
What about playing twins?
Aaron:    I have to do a shout out to the wig and costume department. I cannot believe how good of a job they have done! It is incredible how similar Misha Fristensky (playing Dromio of Ephesus) and I look. That's also a testament to Brian and David for their casting.
Why do you choose to be at the Festival?
Chris:    The best of the best come back here. There are amazing directors and actors and really appreciative audiences who know and love these plays and support us at every turn. It's a long way from my home and wife in Chicago and I wouldn't be here if it wasn't worth it. It's such an amazing experience.
Costume Sketch by David Kay Mickelson, Dromios
Aaron:    Every department is working at such a high level. The sets, the prop, the music…it's amazing. It feels like a family. Here, over the course of a season and over the course of many seasons, you have the opportunity as an actor and an artist to showcase the whole of you. I feel more challenged as an artist and more inspired as an artist in this place because I'm also surrounded by other people who are going through the same thing. That's why I want to be here every year I possibly can.
Why should people see this play?
Chris:    Shakespeare was fabulous in his understanding of what it means to be human. The play is full of really rich, well rounded human beings. In the midst of all this comedy, you have a man who's genuinely searching for his identity. I believe in Shakespeare's ability to tell a well-rounded story through his language. And I think that's always relevant.
Aaron:    The comedy is hilarious. It's fun, over the top - good for the entire family. People are going to come and have an extraordinarily wonderful time.
The Comedy of Errors opens on June 30 and plays through August 30. You can learn more about the play at
http://www.bard.org/plays/comedy2014.html. You can purchase tickets online at www.bard.org or by calling 800-PLAYTIX.
Facebook:
https://www.facebook.com/utahshakespeare
YouTube:
http://www.youtube.com/utahshakespeare1
Pinterest:
http://pinterest.com/utahshakes/
Instagram:
http://instagram.com/utahshakespeare
Twitter:
https://twitter.com/#!/UtahShakespeare
Follow @UtahShakespeare