The Greenshow with James Sanders and Molly Wetzel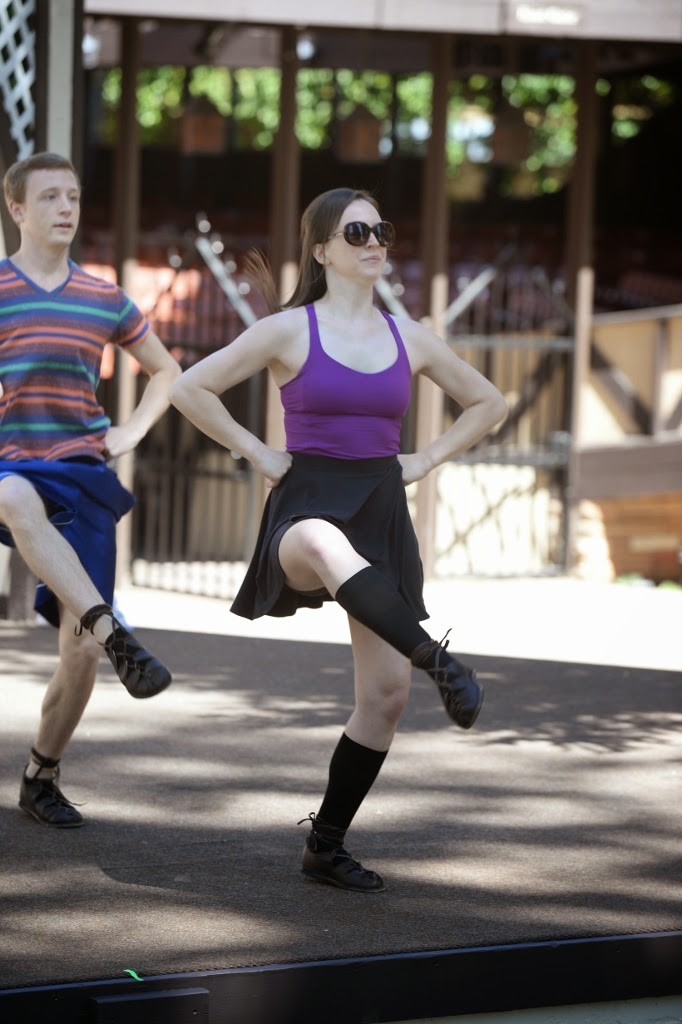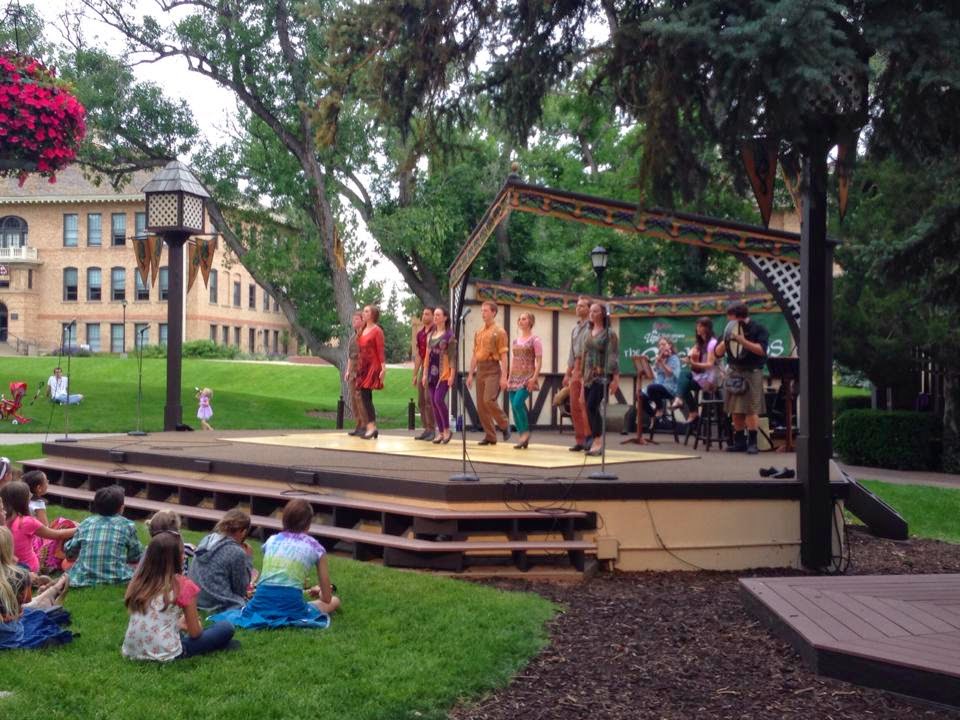 Wetzel in rehearsal
This year, the Festival is presenting three new Greenshows, created and co-directed by Fred C. Adams, founder, and Josh Stavros, associate education director, with choreography by Christine Kellogg. These shows are a mixture of past favorites and new elements.
We recently met with two of the performers. Molly Wetzel is in her second year with the Festival. Last year she was in the Greenshow and Anything Goes. James Sanders is new to the Festival. Both are also appearing in Into the Woods and Sense and Sensibility.
Greenshow rehearsal 
Tell us about the Greenshows:
Molly:    There are three different shows: English (performed before Henry IV), Scottish (before Measure for Measure) and Irish (before The Comedy of Errors).
James:    We're learning new songs and dances. There's actually a lot more dancing than last year, including a sword dance, and the Egg Dance.
Are the shows totally new?
Molly:    There's a nod to tradition, with elements such as the Maypole and Punch and Judy. The Irish show is similar to the Celtic night from last year. The Gael Byrds are back!
James:    We've got lots of audience participation. Also, we start in the Auditorium inviting patrons at the orientations and sing people out to the Adams courtyard.
Molly:    In addition to the eight full time cast members, this year we've added four SUU Fellows (Juniors and Seniors in the SUU College of Performing and Visual Arts) as well as two Playmaker members: Kailey Gilbert and Georgianna Arnell (both appeared in A Midsummer Night's Dream in 2011).
Talk about the transition from the Greenshow to your shows in the Randall:
Molly:    We have less than twenty minutes to get ready for the Randall shows. We race across the street. The dressers are so efficient – they know we're coming and get us costumed and wigged in an amazing amount of time.
What's it like for young actors here?
James:    It's like a master class every day – there's so much support.
Molly:    Not every theatre treats the non-equity actors well. We are treated so well – it's like family. I love it here!
The Greenshow is just one of the many free activities that can be part of your Festival experience. You can see the free Greenshows six nights a week from June 23 through August 30 in the Adams Courtyard. The show begins at 7:10 and runs for thirty minutes. Many local families enjoy this free performance as a family event. And it's a great way to get into the mood before the performance as well.
You can purchase tickets for the plays online at www.bard.org or by calling 800-PLAYTIX.
Ways to Connect Online:
Facebook:
https://www.facebook.com/utahshakespeare
YouTube:
http://www.youtube.com/utahshakespeare1
Pinterest
http://pinterest.com/utahshakes/
Instagram:
http://instagram.com/utahshakespeare
Twitter:
https://twitter.com/#!/UtahShakespeare
Follow @UtahShakespeare
Sanders practicing sword dance