2016 a Landmark Season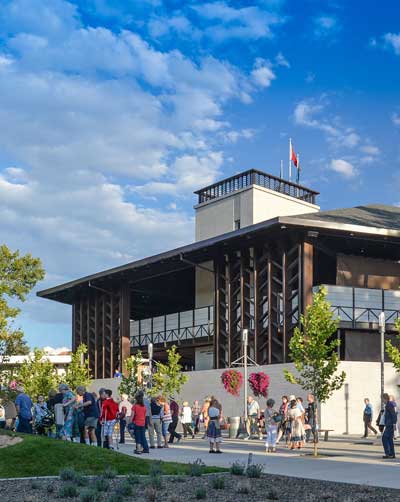 The most recent year at the Utah Shakespeare Festival, its first in the new Beverley Taylor Sorenson Center for the Arts, was a landmark season—and an artistic success. After seventeen weeks of eclectic theatre, greenshows, seminars, and educational activities, the last spotlight dimmed on October 22, leaving behind a warm glow of memorable productions and milestones. 
"I am extraordinarily pleased with the quality, content, and spirit of the productions in 2016," said David Ivers, artistic director. "An astonishing body of artists, craftspeople, managers, and staff worked well together to produce an exceptionally strong season against all odds!"
"I was particularly proud of our work in the Engelstad Theatre," added Brian Vaughn, artistic director. "The bar was set very high as we embarked on producing in a completely new venue. All three productions were artistically top notch and the level of passion and commitment from our artists was everything we could have hoped for."
Of course, this opinion of the season's artistic success is also shared by our guests. For instance, Barb-Las Vegas said on Trip Advisor: "This year's season was, I believe, the best overall that I have seen. Not only does this Festival give audiences the opportunity to experience brilliantly acted, directed, and staged Shakespeare, it also provides a musical or two, some classic popular comedies and dramas, and an occasional new or relatively unknown play."
And Mary Anne added on Facebook: "I have attended off and on for the last forty-five years. Never disappointed. Saw all the plays this year in the brand new, beautiful theatres. Sad to say goodbye to the old, but this is an amazing new chapter. Will return, of course, and look forward to the next season of amazing productions."
"I think the 2016 season will certainly go down in the record books as a milestone for the Utah Shakespeare Festival," agreed R. Scott Phillips, executive director. "Not only did we open a beautiful new artistic center, but we produced eight plays to match the grandeur of our new surroundings."
Our guests seemed to overwhelmingly love the new Beverley Center and our two new theatres: the Engelstad Shakespeare Theatre and the Eileen and Allen Anes Studio Theatre.
"The new theatre complex which just opened this season is breathtakingly beautiful," Lisa S. said on Trip Advisor. "The theatres themselves are thoughtfully designed with excellent sight lines, acoustics, and consideration for patron comfort. Don't miss this experience!"
"The Beverley Center is an amazing addition to the Utah Shakespeare Festival," agreed Ivers. "The expansion in general allows us to greater serve the plays, thereby enhancing the experience for the guest. It's a world-class facility which should inspire us for years to come."
In addition, the Festival surpassed some ticket sales milestones. According to Kami Terry Paul, communications and marketing director, ticket sales numbers were solid, with growth from the previous season. "We saw a significant increase in the number of Festival guests from the Salt Lake City area," she said. "And we had a record 139 sold out performances, compared to 72 in 2012, which previously was the best season for sell outs."
Of course, no discussion of 2016 would be complete without exploring how it sets the stage for 2017 and the fifty-sixth annual season. The Festival will not be premiering any new theatres, but is already working on enhancing the guest experience and making changes to improve the new center. And the Festival will be premiering new plays: Treasure Island is a regional premiere; in fact, the Festival is the first theatre to produce this critically-acclaimed adaptation after a joint world premiere at Lookingglass Theatre in Chicago and Berkeley Rep in Berkeley, California. Shakespeare in Love is a regional premiere; the Festival is one of only four theatres to present the first United States productions. The Tavern by George M. Cohan is being adapted by Joseph Hanreddy for a world premiere at the Festival. And How to Fight Loneliness and William Shakespeare's Long Lost First Play (abridged) are both Intermountain West premieres.  
In addition, the Festival is offering three plays by William Shakespeare: As You Like It, Romeo and Juliet, and A Midsummer Night's Dream, as well as the musical Guys and Dolls.
In case you're counting, that is nine (yes nine!) plays in the 2017 season, one more than in the 2016 season.
"We are making a huge commitment to a re-invigorated road map and a commitment to each employee and guest we serve," said Ivers. "We aim to offer a wide variety of programming. So, we intend to honor our legacy but also move forward with new work, reimagined classics, and musicals—while also offering the traditional faire that has put us on the map."
"Our two new theatres provide tremendous artistic possibilities going forward," concluded Vaughn. "How those two theatres work in harmony with the magnificent Randall L. Jones is going to be fun to explore."
The Utah Shakespeare Festival is part of the Beverley Taylor Sorenson Center for the Arts at Southern Utah University, which also includes the Southern Utah Museum of Art (SUMA).
Tickets and more information are available online at www.bard.org and by calling the Ticket Office at 800-PLAYTIX.