5th Annual Make A Scene Fundraiser a Successful, Fun Event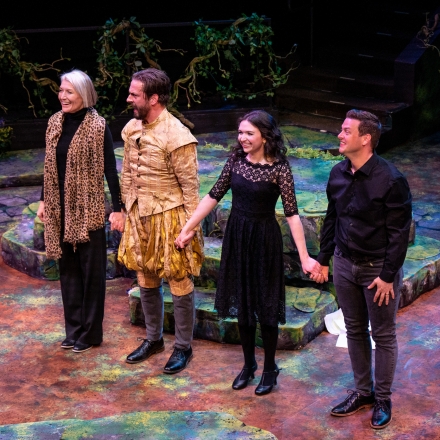 The Utah Shakespeare Festival hosted the fifth annual Make A Scene fundraising event on April 19 at the West Valley City Performing Arts Center in northern Utah. The one-night-only gala featured dinner and a comedic performance of Romeo and Juliet, directed by Festival actor Quinn Mattfeld.
Additional Festival actors Michael Doherty, Melinda Parrett, and Rhett Guter brought laughter and magic––literally––to the night, with Mattfeld, Doherty, and Parrett onstage, and Guter performing magic tricks throughout the evening. 
Utah State University actress Mia Gatherum also hit the stage, and with Mattfeld, the duo played Juliet and Romeo. 
"Quinn, my team, and I knew that an evening of laughter, food, and fun would be the perfect kick-off to the upcoming 2023 season," said Director of Development and Communications Donn Jersey. "We really had a great time putting it all together."
Development Associate Emily Cacho noted that the event was filled with friends and supporters, both old and new. 
"We had a fantastic turnout, with around 200 people in attendance," Cacho said. "We had many new fans of the Utah Shakespeare Festival in attendance as well as many tried-and-true patrons of our organization. Overall I would say we had a very successful event!"
Additionally, over $60,000 was raised at the event to support the Festival's endeavors.
"There were many special guests in attendance, including Utah state legislatures and civic leaders, as well as our friends from Pathway and Associates," Cacho said. 
Interim Artistic Director/Director of New Play Development Derek Charles Livingston seconded Cacho's remarks, calling the event a "terrific and fun-filled evening." 
He also expressed his gratitude to the supporters and performers who made the evening possible. 
"We are so fortunate to have such wonderful supporters who will 'play' along with us, and such a great family of actors to make a whole evening come alive," Livingston said. 
Ultimately, the evening represented what the Festival stands for: "This whole event was an example of what makes the Festival a special organization – the spirit, the storytelling, the camaraderie,  the magic."