Company Spotlight: Betsy Mugavero and Aaron Galligan-Stierle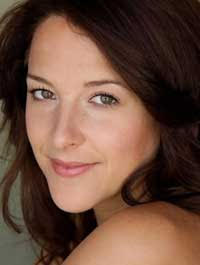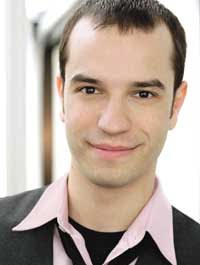 Betsy Mugavero, Actor
Have you ever worked at the Festival before?
This is my 5th season. previous roles: Molly, "Peter & The Starcatcher," Hermia, "A Midsummer Nights Dream," Poppy, "Noises Off," Agnes, "School for Wives," Phoebe, "As You Like It," The Boy, "Henry V," Mopsa, "Winters Tale," Jaquenetta, "Loves Labours Lost," Haberdasher, "Taming of the Shrew." My first season was in 2008.
Where's your home base?
Still searching…
What's your education/training background?
Masters in Fine Arts, University of California, Irvine and Bacheloe of Arts, Temple University.
What brought you to your field and what keeps you doing your craft?
A passion for storytelling and a curiosity for exploring the prism of life. As a theater artist I get to run the gamut of emotions and have endless adventures in my stage life.  The people that work in the theater are the most inspiring and exciting people I know. They keep me going and keep me thirsty for new collaborations and ideas.  Theater is so powerful in the way that it brings creative minds together to tell an unforgettable story about a human experience, and then the creative minds craft and build and sweat to bring that story to the masses so that an audience or an individual can leave the theater changed and hopefully more compassionate.  Compassion is something that is desperately needed in our crazy world and theater commits itself to providing avenues for people to find theirs.
How will you spend your time off while here?
Hiking in Zion! It's my favorite place. What's great about USF, and what others have said as well, is that you can rehearse all day with the same actors, directors and stage management team, but on the weekend you'll find yourself traversing the chains on Angels Landing with a draper you've never known before, a trumpet player from the musical, and a scenic painter- people you otherwise may never have had the chance to interact with.  The beautiful hikes in Utah bring people together through their sense of wonder and adventure for this amazing backdrop of the Festival thus making our work as a company stronger.
What does the Festival Experience mean to you?
Living in the moment, off stage and on. Because the distractions in Cedar City are found in the nature surrounding it, when you come to this place you have a glorious opportunity to grow as an individual and artist. You're inspired by your collaborators and by the beauty and power of the mountains surrounding you. The Festival can become a physical, spiritual and artistic experience unlike any other.
If it applies, do you have a favorite memory of working in the Adams Theatre?
I have a few…It's a little cheesy, but my favorite memory of working in the Adams is actually one when i had a night off and went to see "Comedy of Errors" in 2009.  That night I saw Quinn Mattfeld play Antihpolus of Syracuse and completely fell in love with him. He was so funny and earnest and I'll never forget how charmed I was watching him.
Also, when I was in "School for Wives" in 2008, we played at the Randall while "Cyrano" played at the Adams. "Wives" would come down earlier than "Cyrano" and I would sometimes sneak up the back steps of the Adams house and watch the last scene with Brian and Melinda as Cyrano and Roxanne. Their performances in that show were deeply felt and unforgettable. I strive to be as engaging and honest as they were in that piece.
I also absolutely loved our run of "Midsummer" in 2011. Fred directed and it was the 50th anniversary. The lovers all had a blast working together and falling to pieces under the actual night sky that the Adams provides.
If you could be a superhero, what would you want your superpowers to be?
You know, I don't want to be a superhero. From the movies I've watched, it's a pretty lonely life. I think I want to be a really good ice skater…don't ice skaters and dancers in the Olympics seem super human as they spin and jump on ICE!??! I don't understand the mechanics of all that and if given the power, I'd want to be able to do all of that.
If you had a time machine, where would you like to visit?
I'd like to see my parents as kids, my grandparents in younger years. I've had such a self centered upbringing as their progeny, I'd love to see what they were like when they were 5, 10, 15 years old. What their personalities and interests were. To be a fly on the wall of my parents first date when they were 17 and 18 would be weird but I totally wanna see that. They were at a carnival! So sweet. I think getting to see them as kids would be really special.
Aaron Galligan-Stierle, Actor
Have you ever worked at the Festival before?
7 seasons: Dromio of Syracuse in "The Comedy of Errors," Feste in "Twelfth Night," Smee in "Peter and the Starcatcher," Lord Evelyn in "Anything Goes," Launcelot Gobbo in "The Merchant of Venice," Clown #2 in "The 39 Steps," Leo Davis in "Room Service," Flute in "A Midsummer Night's Dream," Mordred in "Camelot," and Frankie in "Forever Plaid."
Where's your home base?
New York City
What's your education/training background?
BFA in Musical Theater from Shenandoah University, MFA in Acting from Penn State
What brought you to your field and what keeps you doing your craft?
I was one of those crazy kids who knew exactly what I wanted to be when I grew up from the age of 5. I have always loved the community of passionate, empathetic, and imaginative artists that is the theater family. I love telling great stories, making people laugh, helping create a dialogue about tough subject matters, and allowing the community of theater goers to hopefully reflect, understand and experience this gift of life and our world in a deeper more meaningful way. And let me tell you…a life in the theater is FUN!
How will you spend your time off while here?
Most of the time will be spent with my amazing wife, Shannon and my two beautiful children, Devin and Zoe. I absolutely love the gift of getting to share this special place and this community with my family. We love the outdoors, the activities, the parades and most of all the people. It is wonderful to feel like such a part of this community.
What does the Festival Experience mean to you?
I always tell people that the Utah Shakespeare Festival is my artistic home. This is where I cut my teeth and learned by watching and getting to work with some of my favorite artists I have ever had the luck to meet. It is where I return again and again to be artistically inspired. When people ask me to name the top theatrical experiences of my career, I always say that 9 of my top 10 have all taken place here in Cedar City.
If it applies, do you have a favorite memory of working in the Adams Theatre?
I have a lot of great memories in that place, but getting to perform "The Comedy of Errors" there last year, with that absolutely amazing cast, will probably always be one of my favorite theatrical experiences.
If you could be a superhero, what would you want your superpowers to be?
My superpower would be that I could learn any new skill in minutes. Want to play piano? 5 minutes of study and I am a genius. Tap dance like Fred Astaire? 7 minutes. Juggling? Flying an airplane? Speak Russian? No prob. I could learn anything I wanted in no time flat.