A Director's Vision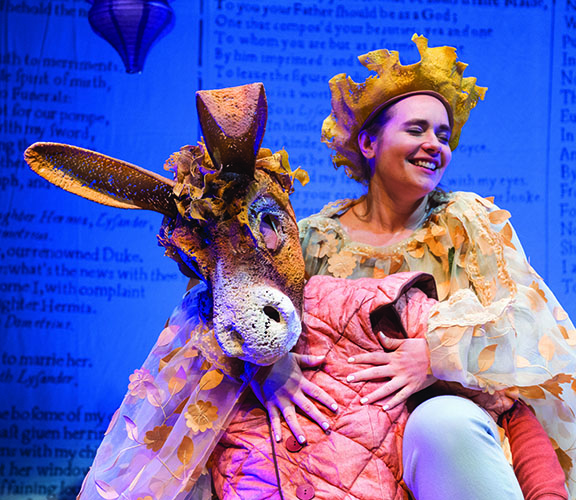 By Brooke Vlasich
Alexis Baigue (left) as Bottom and Marla Lefler as Titania.
January always marks an important time of year at the Utah Shakespeare Festival—the start of the Shakespeare-in-the-Schools educational tour. Developed by the education department, this annual tour visits different states including Utah, Nevada, and Arizona and performs in schools, correctional facilities, and community centers. This year's production of A Midsummer Night's Dream is directed by Britannia Howe, a young woman with a vision focused on the power of text and storytelling.
Britannia's directing experience began here in Cedar City at Southern Utah University where she graduated with a degree in classical acting and received her teaching license. Although she wanted to be an actor, she changed her mind after attending the American College Theatre Festival where she won a directing competition and was awarded the opportunity to attend workshops at the Kennedy Center. In addition, she has also been the assistant director to David Ivers and J.R. Sullivan on Festival productions and has taught the Shakespeare for Junior Actors class at the Festival for the past nine years. Her repertoire also includes work with the Oregon Cabaret Theatre in Ashland, Oregon, and the Eugene O'Neill Theatre Center in Connecticut.
What attracted Britannia to A Midsummer Night's Dream? This show was not only the first play Britannia ever read, but it is also a play she views as a touchstone for Shakespeare. She also thinks themes about parental disapproval, love triangles, and dreaming will resonate with younger audiences. Britannia's concept for the show focuses on taking the text to the stage and showing how influential text and words can be. She's developed this concept by incorporating images of the text into the scenic design and having the costume designer create costumes made of fabric which people can write on. Britannia sees these elements as a significant part of this production that will help audiences contribute to the show and give them the power to create.
What does Britannia hope to pursue in the future? She wants to continue to work with different types of storytelling, as well as bring theatre to new audiences. One of the main reasons she's enjoyed directing the Shakespeare-in-the-Schools tour is its combination of education and directing.
Her next endeavor includes directing at the new theatre in Thanksgiving Point, Utah. Wherever her future takes her next, we'll be watching and supporting this new and innovative director.