A Hugely Successful Season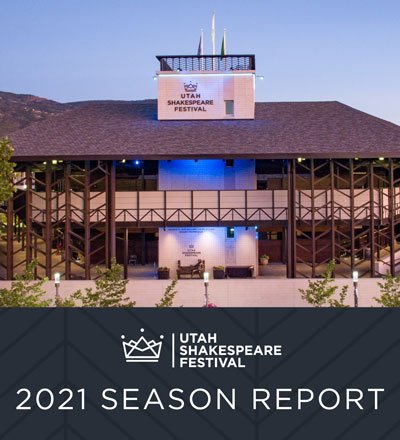 The Utah Shakespeare Festival has wrapped up an enormously successful 2021 season with large and appreciative audiences, eight shows brimming with artistic excellence and entertainment value, and a financial surplus.
The Festival was one of only a very few professional theatres in the country to produce a full season. Executive Producer Frank Mack noted that across the country very few theatres "accomplished a season like ours and for that I am grateful to everyone who came and to everyone who worked to make it possible."
"It was a successful year on every front. Our attendance was similar to a normal year, which is incredible given all circumstances surrounding the season," Mack said. "The productions were absolutely as great as ever—which is similarly amazing."
"It was a phenomenal season and we are so grateful we were able to produce this year, safely and successfully," added Dr. Bryan Watabe, chair of the Festival board of governors.
Approximately 86,000 tickets were sold to 300 performances from June 21 to Oct. 9. After a year off due to the pandemic, many patrons were delighted to return to the Festival, joining family and friends for the excitement of live theatre again.
"It was pure joy to be producing again after the darkness of 2020, while also celebrating our 60th anniversary and recognizing our founder, Fred C. Adams," Mack said. "Seeing our wonderful audiences on our beautiful grounds again was so rewarding, and it gave meaning to the amazing, devoted work of our staff and seasonal company and volunteers."
"It is always a pleasure to have friends and guests from near and far visit the beautiful campus of Southern Utah University and experience the magic of the Utah Shakespeare Festival," concurred SUU President Mindy Benson. "This season was especially meaningful after a year without live theatre. There was no better way to celebrate the Festival's 60th season and remember founder Fred C. Adams than by safely bringing audiences back to our community."
From seeing toddlers chomping on tarts during The Greenshow to watching audiences erupt into spontaneous applause at the The Pirates of Penznace to seeing tears streaming down faces during Ragtime, the season was an amazing artistic success. 
"If gratitude were a currency, we are the richest theatre in the world. Every time I spoke with a patron entering one of our theatres or leaving a production, they communicated how grateful they were that a season was produced. In addition, the art coming from our stages this year was just incredible," said Donn Jersey, director of development and communications.
"Thanks, thanks and ever thanks to the thousands of people who attended our 60th anniversary season," added Artistic Director Brian Vaughn. "We are incredibly proud of the work that was on display and incredibly grateful to the hundreds of artists and volunteers who made it happen against such challenging odds. It is wonderful to be back."
The season was also a financial success for the Festival which is projecting a surplus for 2021 and is positioned well to produce another fantastic season in 2022 featuring King Lear, The Sound of Musicand Sweeney Todd—the first musical presented in the outdoor Engelstad Theatre. The 2022 season also includesClue, All's Well that Ends Well, The Tempest, Trouble in Mind,andThurgood, as well as three new, original versions of The Greenshow. Tickets are on sale now at www.bard.org or by calling 1-800-PLAYTIX.