Actor Relates to Struggles in Trouble in Mind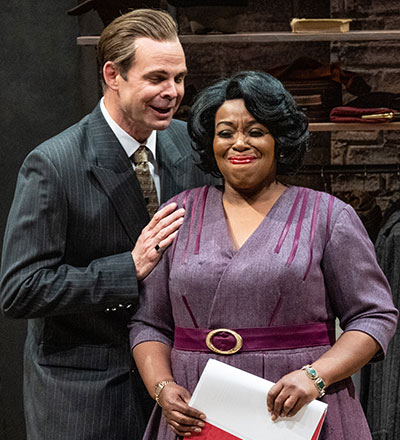 By Liz Armstrong 
NOTE: The original version of this article had the timeline and ages in the sixth paragraph incorrect. They are now corrected, and we apologize for the error.
Yvette Monique Clark, who is playing the lead role of Wiletta Mayer in the Utah Shakespeare Festival's Trouble in Mind, sees parallels between Wiletta's struggles in the play and her own challenges she has faced as a black performer in a predominantly white industry. 
This role is close to Clark's heart because she sees herself in Wiletta. "I relate to the struggles she goes through in the play," Clark said. "It's very taxing on my emotions, because I'm so close to it in that respect."
Clark discovered the play a few years ago. As she was reading, she realized that her and Wiletta's lives paralleled in a "modern-sense." "Like Wiletta, I've had people try to pigeon-hole me into different roles, . . . and I've fought that throughout my career."
Clark's goal as the lead is to make Wiletta as "human as possible," and to do playwright Alice Childress's work justice. "I hope someone will point to me and say, 'I have a cousin like that, I have an aunt like that,'" Clark said. "I want to make her as relatable as possible, because if she's relatable, [the audience] will listen to what she has to say."
Clark's acting journey started for her at a young age. "As a child I was an award-winning storyteller," Clark said. "I knew I loved being onstage."
Her career changed direction a bit when she made the decision to pursue singing. "When I was thirty-three and my son was about nine-years old, I decided I wanted to start singing. My background is in musical theatre, but as it progressed, I branched off into doing other things," Clark said. 
Clark's "branching off" saw success, and she worked for the Oregon Shakespeare Festival, Gateway Playhouse, Capitol Repertory Theatre, New Harmony Theatre, and internationally with Living Arts Inc. and African Globe Theatreworks, as well as many others. 
Additionally, she has acted for the big screen, landing roles in the wildly popular show Orange Is the New Black, as well as Seasons of Love and Stealing Martin Lane to name a few. 
"This is my first time at the Festival," Clark said. "This past year I was at the Denver Center for Performing Arts, the Arrow Rock Lyceum Theatre, and the Depot Theatre."
This is an exciting season for Clark not only because it's her first season at the Festival, but because the role of the Countess of Rossillion in All's Well That Ends Well is her first Shakespeare role, and the role of Wiletta in Trouble in Mind is her first time being a lead. 
Although the play premiered sixty-five years ago, it is only now that it is having its moment in the spotlight. "I wish [Childress] could see this happening now," Clark said. "It's great that people are getting to see this story, and maybe one day it won't be relevant anymore. But that's not what we can say right now."
Ultimately, Clark hopes that the audience recognizes and sees humanity in the play. "As a human community, we forget that other people's situations are different from ours because it's not our reality," Clark said. "I'm hoping this gives them a window into what happens to people of color in all walks of life, in all situations."