The Infamous Role of Sweeney Todd: A Glance Back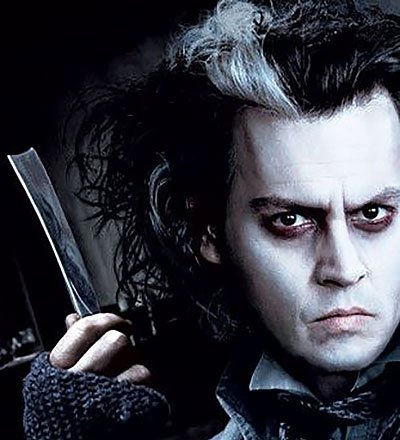 Johnny Depp as Sweeney in the movie version of Sweeney Todd
By Liz Armstrong
 Originally a non-musical play by Hugh Wheeler in 1974, Sweeney Todd: The Demon Barber of Fleet Streethas been produced as a musical many times since. The list of actors who have taken on the gigantic role of the vengeful Sweeney is long, but here are a few that stand out for us:
1979—Len Cariou: The very first production of the Stephen Sondheim/Hugh Wheeler version of Sweeney Todd opened in 1979 on Broadway at the Uris Theatre and was directed by Harold Prince. The production received eight Tony Awards, eleven Drama Desk Awards, and the Drama Critics' Circle Award for Best Musical. Also, Cariou won a Tony Award for Best Actor in a Musical. Although he played Henry Reagan in the CBS-TV show *Blue Bloods,*he is still best known as being "the original" Sweeney Todd. 
**1980—George Hearn:**Hearn replaced Cariou in the Broadway musical, and in 1980 he and Angela Lansbury (as Mrs. Lovett) headed the first touring production. He later reprised the role in a Showtime production, for which he won an Emmy Award. He also won two Tony Awards, in 1984 for his portrayal of Albin in La Cage aux Follies and in 1995 for his work as Max Von Mayerling in Sunset Boulevard. He has also appeared in many movies and television series. Hearn was inducted into the American Theater Hall of Fame in 2007.  
**1989—Bob Gunton:**In the first Broadway revival of Sweeney Todd, Gunton earned his second Tony Award nomination for his work as Sweeney. He may be best known for his role as the strict warden Samuel Norton in the 1994 film *The Shawshank Redemption.*Other films he has appeared in include Ghostbuster: Afterlife (2021), The Lincoln Lawyer (2011), Patch Adams (1998), and Midnight in the Garden of Good and Evil (1997). Television appearances include Star Trek: The Next Generationand *Law and Order.*Gunton alsoearned a nomination for a Tony Award in the Broadway production of Evitain 1980. 
2002—Brian Stokes Mitchell: This production of Sweeney Todd was the first show of a mammoth four-month long Sondheim Celebration at Washington, D.C.'s Kennedy Center for the Performing Arts, with Christine Baranski as Mrs. Lovett. A review in the Washington Post said, "Together, Baranski and Mitchell are the very faces of comedy and tragedy, the eternal odd couple that Sondheim brilliantly unites in this show." A popular actor, Mitchell has performed in numerous film and television shows, as well as musicals such as South Pacific, Man of La Mancha, Kiss Me Kate, and Ragtime.
**2005—Michael Cerveris:**Cast as Sweeney Todd in the second Broadway revival, this wasn't Cerveris's first Stephen Sondheim musical. He was also cast in *Assassins, Road Show,*and *Passion.*He won Tony Awards for his role as John Wilkes Booth in Assassins and as Bruce Bechdel in *Fun Home.*In the John Doyle directed revival production of Sweeney Todd, the character played lyric guitar, and Cerveris was nominated for a plethora of awards, including the Tony Award, Drama Desk Award, Outer Critics Circle Award and more. 
**2007 - Johnny Depp:**DirectorTim Burton turned Sweeney Todd into a feature film in 2007, starring Johnny Depp as Sweeney and Helena Bonham Carter as Mrs. Lovett.Depp had wowed audiences for years for his film portrayals of eccentric characters, but he was cast for the role of Sweeney before anyone had really heard him sing. Even Depp commented that "he had never sung in his life." However, the gamble paid off, and he received an Oscar nomination and a Globe Award for his performance. 
The Utah Shakespeare Festival's iteration of this perennially popular musical will play June 21 through September 9 as the first musical ever performed on its outdoor stage. The role of Sweeney has not yet been cast, but watch our website to see which actor we will choose to add to this long list of Sweeney Todds over the decades.