Ahoy! Ethel. Where Art Thou?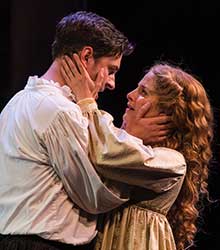 Quinn Mattfeld (left) as Will Shakespeare and Betsy Mugavero as Viola de Lesseps.
By Ryan D. Paul
One of the hottest trends in the theatre world has been the adaptation of hit movies into musical theatre productions. Think Dirty Dancing, Ghost, Sister Act, and The Bodyguard to name a few. Some of these have been more successful than others. Many of these films, with their slick pop songs are almost ready-made for the transition into a Broadway musical. The greater challenge, however, lies in transforming a popular film not into a singing and dancing showcase loosely tied together with familiar tunes, but into a traditional play. This is the challenge and the beauty of Shakespeare in Love.
Tom Stoppard, the screenwriter for the 1998 Best Picture Academy Award winning Shakespeare in Love, had originally been asked to adapt the film script into a full-fledged stage production. "I didn't want the gig, but thought I should go for it because nice colleagues wanted me to do it," recalled Stoppard, "I moved the movie pieces around a bit, to no particular effect, before I came clean." Undaunted, producers at Disney Theatrical, scrapped Stoppard's version, with his blessing, and hired playwright Lee Hall to press forward. Hall, who had received a Tony Award for his book of Billy Elliot the Musical (another screen to stage adaptation, I might add), proved up to the task. Hall retained about ninety percent of the film script, while reworking some plot points and adding additional dialogue.
The play begins with William Shakespeare struggling with writers block. He is working on what he hopes will be his next big hit, a play entitled Romeo and Ethel the Pirate's Daughter. He receives help from his friend, competitor, and fellow writer Christopher Marlowe; but nothing seems to work until he meets Viola, a noblewoman who desperately wants to be an actor, but due to her gender cannot be on stage. Forced to abandon the trappings of her sex to fulfill her dreams, she dresses herself up as a young man and begins work. In Hall's version of Shakespeare in Love, "The play is firstly about this man becoming William Shakespeare and this woman, Viola, becoming a great actress."
The character of Viola is named after Shakespeare's heroine in Twelfth Night who disguises herself as a boy to be near the man she loves. Additionally, the male name Viola chooses to identify herself in Shakespeare in Love is Thomas Kent. Kent, as you may recall, is a character from King Lear who must disguise himself as a person of low rank to serve the king. This is one of the many Easter eggs in this play. If you are unfamiliar with the term "Easter egg" in this context, it refers to a hidden piece of information that can only be identified or recognized by people who have a deeper understanding of the material. Devices such as this serve to enhance the enjoyment of the play and searching (listening) for them can make Shakespeare in Love a different experience each time you see it.  Another example can be seen in this interaction between Will and Marlowe:
Will: What happens to Ethel?
Marlowe: Marries a moor and is strangled with a handkerchief?
In the play, this is said to be funny, but of course we will see these details again, in a much more tragic fashion, in Othello. Other lines that come up throughout the play that should sound familiar to most lovers of Shakespeare include "Out, damn spot!," "The play is the thing!," and "That is the question." This, of course, is only a small sampling. Be sure to challenge yourself to see how many you can find.
This summer, the Utah Shakespeare Festival is presenting the regional premiere of Shakespeare in Love. Brian Vaughn, Festival artistic director, who helmed last year's very successful production of Henry V is thrilled to be directing this stage adaptation of the Oscar-winning film.  Vaughn is aware that bringing a much-loved movie to life on the stage has its challenges:
"I think the challenge, among many, is capturing all the magical elements that made the film successful and transferring that to the stage. One of our greatest assets (and really why we chose to produce the play) is the venue in which we are presenting it. I can think of no better theatre to present a play which revolves around the creation of an Elizabethan masterpiece than in our Elizabethan theatre. It helps propel the action out toward the viewer and informs the overall storytelling in a way where the actors cannot hide behind artifice. It forces the play forward and helps expose true venerability of the players." Vaughn continues: "One of my favorite things about the play is the origin story of how Shakespeare wrote Romeo and Juliet and how we might imagine the world's most famous poet struggling to produce his next hit; but, most importantly, how true unabashed love can inspire magnificent poetry and how the alchemy of both can impact change. The play is called Shakespeare inLOVE, after all. It centers on the spark of creation and how true love can defy all constraints and unlock a sea of possibility."
Vaughn, a self-described "Shakespeare nerd" remembers the intensity and intimacy he felt as he saw the film Shakespeare in Love for the first time.  "I reveled in the inside Shakespeare references, the comedy, the passion, the actors; and the film transported me to Elizabethan England in a way no other period film had done. It felt authentic." That feeling of authenticity is what Vaughn and the entire Utah Shakespeare Festival company are striving for with this production. Come see this show prepared to laugh, love, and search for buried treasure in the form hidden gems of dialogue. However, in the interest of full disclosure, Ethel is gone and the pirates, alas, have disbanded.