Third Annual "Make a Scene" Goes Virtual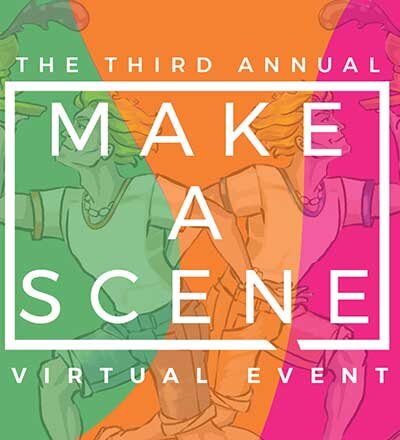 The Utah Shakespeare Festival is inviting everyone to join in its popular spring fundraising event. The third annual "Make a Scene" festivities will be completely online this year, and registration will be free, with optional opportunities to donate to the Festival available during the event. It all begins on April 23 (Shakespeare's birthday) at 7 p.m. To request your free login, email make-a-scene@bard.org.
The digital event will include magic, music, and hilarious scenes from The Comedy of Errors, featuring as various characters some the state's best-known leaders of government, business, and the arts.
"This feel-good fundraiser is so much fun for the cast and Festival friends alike. It is a rare chance to see professional actors alongside the governor, lieutenant governor, and their spouses, as well as other media, business, and government leaders," said Donn Jersey, development and communication director. "Watching them perform hilarious scenes from The Comedy of Errors will be pure joy. Thank you to our sponsors and supporters for making this evening successful."
"I hope all of our patrons make time on April 23 at 7 p.m. to join us," he continued. "To me, this feels like a prelude to our sixtieth anniversary season, which is going to be spectacular."
Included among those scheduled to appear are Governor and First Lady Spencer J. and Abby Cox; Lt. Governor Diedre Henderson and her husband, Gabe; Senate Majority Leader Evan J. Vickers and numerous other members of the state legislature; Schvalla Rivera, former assistant to the president for diversity and inclusion at Southern Utah University; popular radio personality Doug Fabrizio; Nubia Peña, director of the Utah Division of Multicultural Affairs; and television personalities Fred Grandy and Ted Lange, of Love Boat fame. They will be joined by professional actors from the Festival: Michael Doherty, Betsy Mugavero, Ezekiel Andrew, René Thornton Jr., Rhett Guter, and Richard Henry.
Other cast members are Utah Senators Jani Iwamoto, Michael K. McKell, Derek L. Kitchen, and Jerry W. Stevenson; Utah State Representatives Carol Speckman Moss, Christine F. Watkins and Bradley G. Last; Utah Attorney General Sean D. Reyes and his wife, Saysha; Festival Board Chair Bryan Watabe; and SUU President and First Lady Scott L and Kathy Wyatt. For more information on the cast, visit www.bard.org/make-a-scene.
The fun evening is directed by Vincent J. Cardinal, who directed The Foreigner and Every Brilliant Thing for the Festival in 2018 and 2019.
"Our goal is for the leaders in the state to join our patrons in taking a pause from a stressful year and have fun reading one of Shakespeare's silliest and most delightful plays," said Cardinal. "It's a taste of what it will be like for us all to return to Cedar City this summer and laugh together in the same theatre."
The Festival's 2021 season is scheduled for June 21 to October 9. Plays will be Pericles, Richard III, The Comedy of Errors, The Pirates of Penzance, Ragtime, Cymbeline, Intimate Apparel, and The Comedy of Terrors. Tickets are available by calling 800-PLAYTIX or visiting www.bard.org.