Announcing the 2018 Season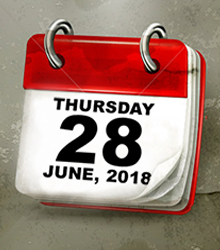 See the Complete Calendar | Purchase Tickets
As part of its opening week celebrations for the 2017 season, the Utah Shakespeare Festival on July 7 announced its 2018 season. The fifty-seventh season, which will run from June 28 to October 20, will include eight plays in three theatres.
"Among other themes, our 2018 season provides a unique examination of intolerance and the adverse impact it can have on our collective humanity," said Artistic Director Brian Vaughn. "With four diverse Shakespeare offerings (including the next in our History Cycle), a world-premiere musical centered around one of the world's most iconic figures, two delightful classic and contemporary comedies, and a Tony Award-winning musical based on one of the most controversial novels of our time, this season promises to resonate on all levels."                                             
The Engelstad Shakespeare Theatre
The Engelstad Shakespeare Theatre will feature three plays by the Bard, including Henry VI Part One which continues the Festival's History Cycle of producing all ten of Shakespeare's history plays in chronological order. In addition, The Merry Wives of Windsor and The Merchant of Venice will give Festival guests the chance to check off two more plays in the Festival's Complete the Canon Project, an ongoing initiative to produce the entire Shakespeare canon of thirty-eight plays between 2012 and 2023.
Henry VI Part One
By William Shakespeare
Henry V has died, and his young son is soon crowned Henry VI. In France, war is raging. At home, various factions are claiming the right to the throne, choosing between the symbolic red and white roses. In this seldom produced history, Shakespeare gathers these threads together and combines them into a powerful tapestry of a country soon to be racked by civil war.
The Merry Wives of Windsor
By William Shakespeare
Falstaff in love? Hardly! But the loveable old renegade does have his lusty eye on a couple of middle-class housewives. Trouble is feminine wit and wisdom triumph once again as the amused and annoyed wives teach Sir John a lesson in this bubbling, popular comedy sure to please everyone in the family.
The Merchant of Venice
By William Shakespeare
Whether you consider this thought-provoking masterpiece a story of love and humor or one of racism and greed, Shakespeare's controversial tragicomedy will touch your soul. Its modern and relevant themes and memorable characters could have been drawn from today's headlines, and will certainly cause you to pause and think about justice and mercy, the complexity of humankind, and the nature of forgiveness and love.
The Randall L. Jones Theatre
Plays next year in the Randall L. Jones Theatre will include a popular musical based on classic American literature (Big River), a hilarious French farce newly translated into English (The Liar), and the return to the Festival of one of America's most popular comedies (The Foreigner).
Big River
Book by William Hauptman with Music and Lyrics by Roger Miller
Mark Twain's timeless classic sweeps us down the mighty Mississippi as the irrepressible Huck Finn helps his friend Jim, a slave, escape to freedom. Their adventures along the way are hilarious, suspenseful, and heart-warming, bringing to life your favorite characters from the novel, and leaving you humming tunes such as "River in the Rain," "Worlds Apart," and the rousing anthem "Free at Last."
The Liar
By David Ives
Adapted from Le Menteur by Pierre Corneille
The charming Dorante cannot tell the truth, and his manservant Clinton cannot tell a lie. From this simple premise springs one of the western world's greatest comedies, a sparkling seventeenth century French farce brilliantly adapted for today, complete with mistaken lovers, suspicious fathers, sparkling romance, frothy comedy, and an abundance of breathtakingly intricate "alternative facts."
The Foreigner
By Larry Shue
Charlie, shy and seeking solitude, is on vacation at a Georgia hunting lodge. Avoiding the other guests, he pretends he is a foreigner, understanding no English. However, he soon witnesses bizarre schemes by people who think he can't understand a word they say, leading to confusion and non-stop hilarity that set up one of the funniest endings in all of theatre.
The Eileen and Allen Anes Studio Theatre
The plays in the Anes Studio Theatre will offer a combination of the old and the new, with Othello (another play in the Festival's Complete the Canon Project) and the world premiere of Pearl's in the House, which is being workshopped at the Festival in 2017 as part of the Words Cubed new play program.
Othello
By William Shakespeare
Brimming with incredible passion and anguish, as well as very human tenderness, this tragic story will lure you into a powerful world of jealousy and betrayal. Fast moving and devastating, Othello is one of Shakespeare's most haunting plays, exploring how fear and jealousy can destroy the most intelligent minds and the purest of loves.
Pearl's in the House
By Art Manke
This musical play focuses on Pearl Bailey, performer and special delegate to the United Nations in a racially-charged mid-twentieth century America. Bailey was a trailblazer for African-American women; yet a talk-show host in 1987 questions many of her motives. So Bailey responds the only way she knows how—through her music.
"With four fantastic Shakespeare classics and a world premiere musical, not to mention three other iconic works of theatre, we could not be more excited to share these productions with our audiences," said Joshua Stavros, media and public relations director. "We hope you will join us."
Tickets for the fifty-seventh annual Festival season, go on sale July 15. To purchase tickets or for more information visit www.bard.org or call 1-800-PLAYTIX.               
The Utah Shakespeare Festival is part of the Beverley Taylor Sorenson Center for the Arts at Southern Utah University, which also includes the Southern Utah Museum of Art (SUMA).