Arthur Miller: An American Master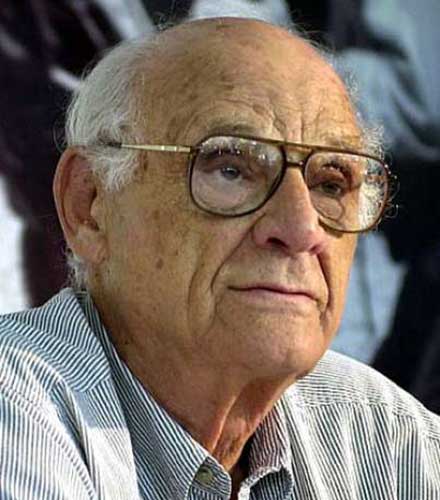 Playwright Arthur Miller
By Kathryn Neves
This isn't the first time the Utah Shakespeare Festival has produced an Arthur Miller play. The 1991 season saw Death of a Salesman in the Randall L. Jones Theatre. Death of a Salesman is arguably Arthur Miller's most famous play, but many people would argue that everything Arthur Miller wrote was a masterpiece. He was, after all, one of America's greatest writers. So as we produce one of his lesser known works this season, The Price, it might be good to understand a little more about the man and the context in which he wrote his plays.
The Price, though many people haven't even heard of it, is a stunningly beautiful piece of theatre. After opening on Broadway in 1968 it was nominated for two Tony Awards. "The Price is one of the most engrossing and entertaining plays that Miller has ever written. It is superbly, even flamboyantly, theatrical" (Clive Barnes, "Theater: Arthur Miller's 'The Price'" [The New York Times, 2/8 1968]). It's the story of two brothers, a wife, and an antiques dealer coming together after years apart to sell their late father's belongings. Through the eyes of these characters, we see the results of old family grudges and prejudices, and we ultimately learn the ways in which they do, and they don't, reconcile. The now deceased father, once a very wealthy man, lost everything in the Great Depression, and his sons, decades later, have to deal with the ramifications of the loss, deception, and resentment in their family.
This isn't an autobiographical piece; Arthur Miller's work is mostly fiction. Still, if you look closely at the characters and events in this play and others, it's pretty clear that Miller used concepts from his own life to enrich his work.
Miller was born in 1915, the son of a Polish Jew who moved to America during the Jewish pogroms of the Russian Empire. His family owned a coat-making business, but when the Great Depression hit, all the Millers had to give up and move. Miller then began working in a bakery to help support his family. This is remarkably similar to an important character in The Price, Victor Franz. As the play goes on, we learn that he once had dreams of becoming a doctor and a scholar, but after the Great Depression he ended up becoming a police officer in order to support his poor, incapacitated father. There are similar themes of father-son dissatisfaction, poor economy, and work ethics in his other plays too, most notably Death of a Salesman.
But it's not only Miller's personal life that's mirrored in his work; the events of his world— historical moments, great figures, and political movements— made their way into his works as well. And it's not just The Price— you can see it in many of his other plays. The Crucible is a great example; written in 1953, it showed the story of the Salem Witch trials through the eyes of a few fictional characters. The story went deeper than that, though. It was actually an allegory for the Red Scare and the Communist "witch hunts" conducted by Senator Joseph McCarthy. Interestingly enough, Miller himself was brought before the House of Un-American Activities Committee just three years later and was investigated for his supposed Communist leanings.
His play All My Sons revolves around family loss and trauma after the events of World War II, and the ways in which people come to terms with the casualties of war. Death of a Salesman deals with economic complications and individual responses to disastrous events around them— i.e., the Great Depression. The list could go on for quite a while.
All in all, Arthur Miller's works are more than just fiction; they are reflections of the author himself, and of the tumultuous events of the history that he lived through. By watching his plays, we can understand more about not just Arthur Miller, but about the world itself. Take the chance the summer to see The Price. This complex masterpiece is just one example of Arthur Miller's genius, brilliance, and amazing understanding of the human condition.