Be Part of a Unique Theatrical Experience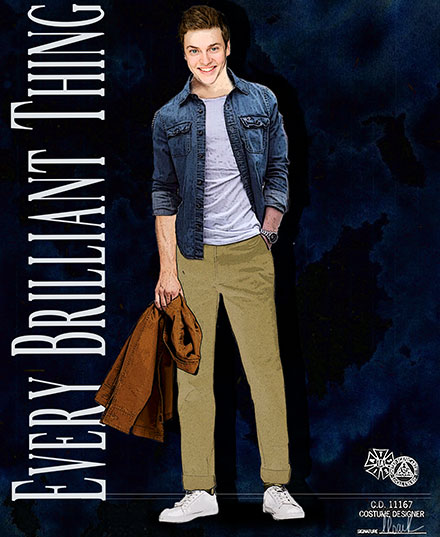 Costume design by Lauren T. Roark
By Kathryn Neves
Have you ever been part of a show? I don't mean as an actor, or a director, or a technician. Have you ever been in the audience and been a part of the show itself? 
We see it all the time. Audience members pulled onstage from their comfortable seats, thrust into the limelight of the stage for a few minutes, then returned to their perch to watch the show. It's in a lot of plays, and really fun ones too; Forever Plaid does it, The Complete Works of William Shakespeare (Abridged) does it— we even do it in The Greenshow sometimes. It's a lot of fun for everyone involved, and creates fun memories that will last for years to come.
Every Brilliant Thing, though, is different. The audience isn't just part of the show; they aren't just there for a scene or two, then gone. No, the audience for this show is as important to the production as the actor himself.
From the very beginning, Every Brilliant Thing is different. This isn't a play you just sit back and watch. Instead of an actor onstage reciting soliloquies and speaking monologues to the open air, the actor speaks to you. To us. Right away, that traditional fourth wall is broken. There's just no such thing in this play.
Every Brilliant Thing is the story of a young man dealing with the repercussions of his mother's drastic actions. The Storyteller, the only character in this one-man play, tells us all the ups and downs of his life. He tells us about his dog, his marriage, and, most importantly, his relationship with his suicidal mother. But this isn't just a one-way conversation. No, the audience steps in. Various audience members become therapists, vets, lovers, professors; they answer back to the Storyteller's questions and concerns. The audience is a character in this play.
Why would a writer do that? Why would a playwright, who is well aware of the rules and conventions of the theatre world, deliberately destroy the fourth wall and put so much responsibility on the audience?
The truth is, theatre is about much more than sitting down and watching a play; it's about more than entertainment. That isn't to say that entertainment value isn't important. After all, would we still watch and enjoy Shakespeare's plays if they weren't at least nominally entertaining? But theatre goes deeper than that. Theatre is about people. It's about very human emotions and actions, and it's about relationships. Mostly, theatre is about community. It's about coming together as people and sharing a beautiful, moving experience. As audience members, we react together: we cry at Juliet's tragic death, we laugh at Bottom's bumbling idiocy. We feel the pain behind every Laura Wingfield, and we savor in the romance between Tony and Maria. Even though the characters are only figments of our imagination and the inventiveness of the actor, we connect with them in a very real way.
In Every Brilliant Thing, we have a bigger chance to do that than we do watching other plays. We get to be a part of the experience, and we get to share in the joys and sorrows of a young man's life, not only with each other, but with the character himself. By the end of the show, we get to feel like a real family— a family of audience members and actors, of theatre lovers, of people.
In the end, Every Brilliant Thing is really a one-of-a-kind theatre experience. Every night is a different show, with different people and different characters; each night, the list of brilliant things changes and evolves with the people who watch the play. But what doesn't change is what really matters: the celebration of life and of people. What an amazing experience to be a part of!