Become a Playmaker! Youth Program Auditions Announced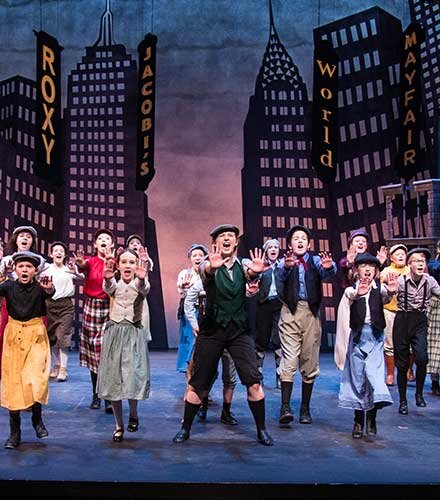 A Playmakers performance of Newsies!, 2019.
CEDAR CITY, Utah — The Utah Shakespeare Festival recently announced auditions and performance dates for its 2020 Playmakers production of Once upon a Mattress. The popular Playmakers program provides young actors a chance to rehearse, learn, and then perform this fun and popular musical.
Auditions will be January 9, starting at 3:30 p.m.; location is still to be announced, but the latest information is available at bard.org/playmakers. Youth ages six to seventeen are invited to audition.
Interested youth must reserve an audition time and should come prepared to sing one of three selected pieces. The audition reservations form and the song selections can also be found at bard.org/playmakers. An accompanist will be provided, and callbacks will be January 10 from 4 to 6 p.m. in the Southern Utah University Music Building, room 209.
In addition, the Festival is offering an audition workshop on January 8, from 4 to 6 p.m., also in the SUU Music Building, room 209. Hopeful actors can come and play theatre games, get to know the Playmakers team, and learn the audition songs. There is no cost to attend. Attendance at the workshop isn't required, but is highly recommended.
"If your child has questions," said Festival Education Director Michael Bahr, "this is a great way to get to know the program."
Once auditions are completed and participants are announced, rehearsals will begin on January 14 and extend through the opening performance on April 1 School performances of Once upon a Mattress will be April 1, 2, 3, and 6, with special public performances on April 3, 4, and 6.
The program trains youth in theatre fundamentals, including how to sing and dance with a live piano, rehearsal and performance etiquette, and how to work, share, give, and play with others.
Once upon a Mattress is a comedy with music by Mary Rodgers and lyrics by Marshall Barer. It opened on Broadway in 1959 and has garnered numerous awards. It is a musical adaption of Hans Christian Andersen's fairy tale The Princess and the Pea. It is a jazzy, lyrical love-story of a spunky, charismatic, and original princess who finds love through a series of innovations and mishaps. The whole ensemble, comprised of intelligent, courageous ladies, caring and chivalrous knights, imaginative jesters and minstrels, tell the story through live music and dance. 
"I love this musical," said Bahr. "It is a jazzy, fractured fairy tale that requires unique actors to portray strong and spunky characters. The play is perfect for training artists in the fundamentals of the theatre.
For more information and to schedule an audition, visit bard.org/playmakers.