Behind-the-Scenes: How The Play That Goes Wrong Went Right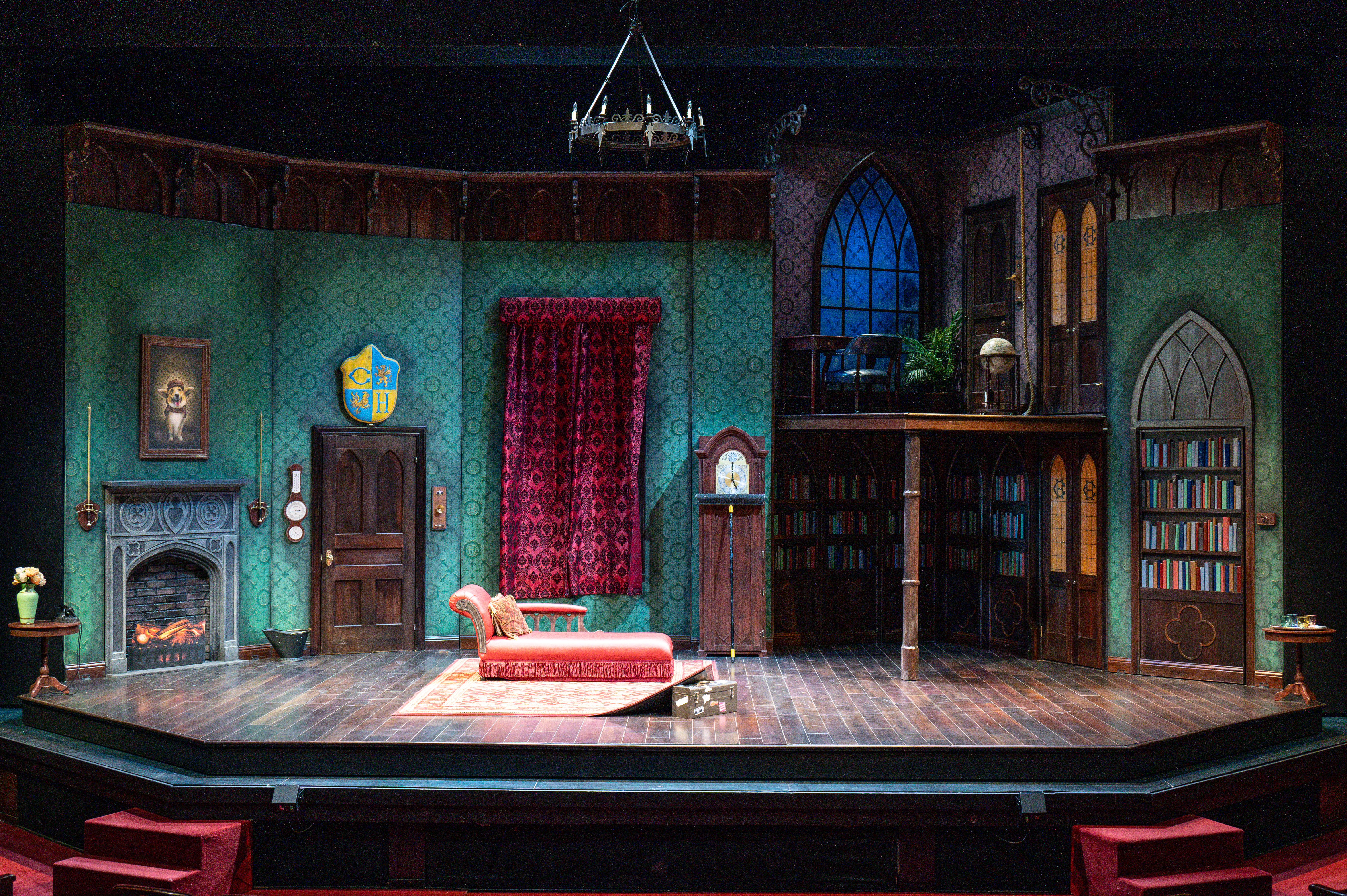 By Liz Armstrong
Director Geoffrey Kent said that The Play That Goes Wrong is one of the funniest comedies written in the past 10 years. As an accessible, family-friendly play that will have your sides hurting from laughter, it's a must-see this season.
But for those involved, this play was extremely challenging to pull off. Because it is so technically complex and physically demanding, we chatted with Kent and Properties Director Ben Hohman to find out how they made The Play That Goes Wrong. . . go right.
Without giving too much away, we'll let you in on part of the behind-the-scenes process.
"We have a hard time talking about The Play That Goes Wrong, because the premise of the play is given in the title, but we don't want to give spoilers," Kent warned.
However, he and Hohman shared some fun facts that won't interfere with the element of the surprises the play brings.
Starting Early
Kent noted that something that made the process run smoothly was starting on the show as early as possible.
"We knew we had to get ahead of it. We had our first design meeting in August of 2022," Kent said. "[The Festival] was still producing Clue, and we had already designed the set and costumes."
Several decisions were made very early, such as prioritizing and spending extra time on actor safety.
"We spent lots of extra time before our typical 'tech' period working with the actors, design team, director, and stage management, both in the rehearsal room and on set to work through the more complicated technical elements," Hohman said. "[This way], we had time to adjust and improve the items and action to keep storytelling front and center while also ensuring actor and crew safety."
As Kent mentioned, set design was planned out before the 2022 season at the Festival had even closed.
"We decided early on to not employ any motors, solenoids, or other electronics to pull off the tricks, so everything is manually controlled by crew people backstage," Hohman noted.
In the long run, this decision was made because of the goal of consistency. But, because of this decision, the research and development that went into the creation of all the scenery, props, costumes, and effects was much more intense.
Sound Effects
"We do a lot of extensive impact, with sound effects using slapsticks offstage," Kent said.
The problem was, that once they were on set, they discovered they could no longer hear the sound effects, and those operating the slapsticks couldn't see what was happening in the play.
"To solve this problem, we drilled small holes in the set, where the sound effect actors can look through to see what's going on," Kent said.
The Props
Kent calls the chaise lounge in the show a "diva prop" because it takes up more time and attention than other aspects of the set.
"The chaise gets thrown around, fallen on, hidden behind, tripped over, climbed upon, and more. This means that it had to be light and strong, and still look like a period piece," Kent said.
So the props department engineered it with this in mind; but in rehearsal, the actors kept breaking it. Eventually, the chaise was perfected.
"The chaise is built out of aluminum and is capable of doing much more than it [would normally] do," Kent said.
Hohman said that through the rehearsal process, many items held up better than expected, while others required the making of several duplicates to get through the run of the show.
"Almost everything in the show we have multiple copies of, because of the abuse the set goes through in the play," Kent said. "Everything had to be designed to go through 80 performances."
To prioritize actor safety, some alterations to the set were made, one of which was the rug in the center of the stage.
"The rug is padded, because so many actors fall down on it, so we had to give them a little bit of protection to make it safe for them," Kent said.
The Challenges
There's something to be said about producing a play where everything goes wrong, but making sure that behind-the-scenes, everything else is going right.
"The show is frustrating to me because it makes it look like all the technical staff don't know how to do their jobs, though making it look that way is really difficult to pull off," Hohman said candidly.
Hohman said that The Play That Goes Wrong is one of the most challenging he's encountered in over 30 years at the Festival.
"Everything needs to be designed to look like it was done by a community theater, which is a bit lower level of detail than we are used to creating," Hohman said. "But it also needs to hold up to major abuse for months."
Producing the show in repertory, nearly 80 times throughout the season, brought a whole new set of obstacles.
"Most people who do this show attach the set to their theater to help with the physics on the set, but our set is on casters and has to roll into storage [because our shows rotate in repertory]," Hohman said. "So the amount of work the scenery department had to do to figure out the stresses on the set and to counteract that was pretty extraordinary."
Ultimately, the show is something that all involved are extremely proud of.
"I do appreciate that the audience doesn't know what is supposed to (scripted) go wrong, and what on any given day does (mistake) go wrong," Hohman said. "That is due to a remarkable cast and crew who keeps the story moving, as well as a great amount of preparation and planning from every department for a year."
Hohman noted that this was followed by an amazing rehearsal period and a willing design team.
"[We were able to] pull together a show that is funny, charming, unexpected, and delightful, while also at times terrifying for theater people to watch," Hohman said.
With just three weeks left to see the show, don't wait to purchase tickets. Visit bard.org or call the ticket office at 800-PLAYTIX to get yours.