Behind the Scenes of the First Folio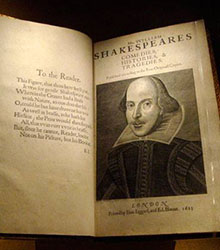 By Kathryn Neves
There are a lot of familiar plays this upcoming season at the Utah Shakespeare Festival: classic Shakespeares like Hamlet, Twelfth Night, and Macbeth are on everyone's top five list, a continuation of the Henry VI plays from last year, and of course, the ever-popular Joseph and the Amazing Technicolor Dreamcoat. Even so, there are a few unfamiliar ones. One in particular, is unfamiliar because it's still fairly new: Lauren Gunderson's The Book of Will.
The Book of Will is— first and foremost— a comedy. Of course, it's got some bittersweet moments, and it also has a lot of historical aspects to it; but it's a comedy at its heart. The interactions between the characters, the theatrical inside jokes, and the hilarious language will have you leaving the theatre in stitches.
Well, that's all very well, you say. But what is it? What is it about?
It's about Shakespeare, at its simplest; it's about his words and his works, his family and friends, and the magnificence of the characters he has created. The story follows two of his close friends, both actors and managers in his company The King's Men: Henry Condell, and John Heminges. Both of these men were real historical figures, and though you may not have heard their names before, they are incredibly important in literary history. These are the men that saved the Bard's work, collecting his plays together to form one complete folio. It's thanks to them that we know about Hamlet and Macbeth and Romeo and Juliet at all. 
Before the First Folio came about, none of Shakespeare's scripts were very reliable. There were a few different options: a) you could look to the foul papers, which were basically Shakespeare's rough drafts. Here, you'd have Shakespeare's actual words— but probably not the right words. Have you ever compared a rough draft to a finished one? Sometimes you wouldn't know they were the same thing unless the title was there. Then, you could try b) the quartos. None of them were quite right, and a lot of them were just simply transcribed by ear by people who went to see the plays. They might be a bit better perhaps, but still not great. You're not getting the quality Shakespeare you're looking for with those. Then, as a last-ditch effort, you could try tracking down the c) actors' sides. These take a little more explaining. Shakespeare, in his life, rarely (if ever) gave his actors the full copy of the script; they were too expensive, and they encouraged thieves to come and steal the plays. Instead, actors received their lines and their cues only— in essence, they got half a conversation, or maybe a collection of disjointed monologues. This would not be an easy way to read the play; it would near impossible to collect and compile all the different actors' sides into a cohesive play.
Well, Heminges and Condell did all three. Several years after the Bard died, they worked together to track down everything they could of his plays. They got the sides, they got the quartos, they got the foul papers. Using these and their memories from actors and watching the plays, they picked and prodded and pieced everything together until, finally, they got the closest they could to Shakespeare's original words: the First Folio.
The play takes place only a few years after Shakespeare's death. Condell, Heminges, and their friend Richard Burbage, Shakespeare's lead actor, reminisce on Shakespeare's  life and work. They lament the bad copycat productions going on around London without proper scripts, and they most of all miss their friend. So when Burbage dies, the last link to Shakespeare's work (he had, after all, memorized so much of Shakespeare's best language) the remaining friends team up with their wives, a printer, and the Bard's rival Ben Jonson, in order to resurrect the greatest work in the English language and preserve it for centuries to come.
It's a fun, exciting play; the characters are funny, their interactions are honest and relatable, and the dialogue is a fun mixture of older English and today's language. But what makes this play really enjoyable is the realness of it. This all really happened (well, maybe not all of it, but most of it). We get to learn about and appreciate two men that are barely more than names printed at the beginning of a book— and above all, we get to see what Shakespeare's language really means to people. It was important then, and it's important now.