Cedar City Unplugged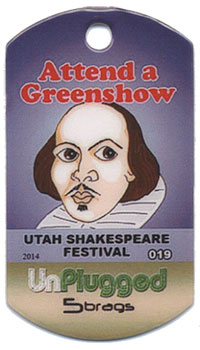 Cedar City Unplugged: Attend a Greenshow
Help your kids to go outside this summer and "Play Unplugged."
Play Unplugged is all about encouraging kids to put down their electronics and get outside and play. This is done by creating symbiotic relationships between kids, parents and local businesses. These relationships create an incentive for all to participate as one motivates the other.
The Utah Shakespeare Festival is participating this year by encouraging kids to attend a free Greenshow in order to earn a Festival Brag Badge. The Greenshow starts at 7:10 p.m. every Monday through Saturday night. It is free for the whole family to enjoy.
When a child attends The Greenshow, he or she can then pick can be up a Brag Badge at the Guest Services Booth near the Adams Shakespearean Theatre during the time of the Greenshow performance. Please post a picture of yourself attending the Greenshow on the Utah Shakespeare Festival Facebook page.