Celebrating 19 Years Of Volunteering: Diane and Steve Sharp on Words Cubed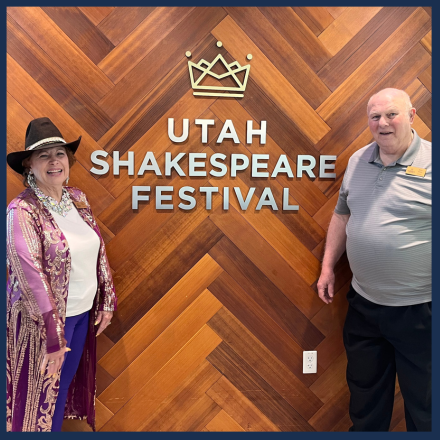 Diane and Steve Sharp have spent countless hours volunteering at the Utah Shakespeare Festival, and it is with grateful hearts that we celebrate their nineteenth year of work, especially highlighting their time and dedication spent on Words Cubed.
"The Sharps have been the lifeblood of the Festival's new play program for many years," Executive Managing Director Michael Bahr said. 
About Words Cubed
Words Cubed is the Utah Shakespeare Festival's new play program that seeks to nurture and develop openly-submitted, solicited, and commissioned plays by providing a professionally supported platform for readings, workshops, and fully realized productions. 
Part of an ongoing commitment to create a diverse body of work, playwrights spend a week at the Festival in rehearsals, working closely with actors, directors, the Sharps, and more, refining and rewriting their plays. 
This past August Words Cubed featured two new plays. The Value by Nicholas Dunn, directed by Elijah Alexander, featured a cast with Dylan J. Fleming, Tim Fullerton, Alex Keiper, James Ryen, and Marco Antonio Vega. Horse Thief by Christine Whitley was directed by Lisa Quoresimo and featured Jasmine Bracey, Nathan Hosner, and Marissa Swanner. 
The Beginning 
The Sharps first started attending the Festival in 1992, although their love for theatre started long before that. 
"I took Diane to a play right after we were married in Salt Lake," Steve said. "We've been married 57 years. We've always loved live theatre, but never wanted to be involved in it." 
But that changed in 2005. 
"We told Scott Phillips and [late Festival founder] Fred C. Adams that the Festival had given us so much, and now that we were both retired, we wanted to give back," Diane said.  
So, the Sharps began their volunteer work in the new play program. The couple candidly admitted that this is because they weren't Shakespeare fans at first. That, of course, changed over the years, and although they now enjoy Shakespeare productions, their devotion to new plays stayed consistent. 
"It's been a real joy in our lives," Steve said. "If you would have asked me 20 years ago if I would be doing this, I would've said you were crazy. But we have felt so embraced, and volunteering is our way to give back for all the good times we've had at the Festival."
As the new play program developed and grew into what is now Words Cubed—and as the Festival has grown—the Sharps' responsibilities shifted.
"No job is beneath them, from preparing apartments, transporting playwrights, copying scripts, preparing and setting up rehearsal, and house managing," Bahr said. "They understand and respect the process of play development and cultivation of new work and are eager to do anything to assist."
From initially taking on a company management role, volunteering at the Shakespeare Competition, and more, they now primarily serve as hosts for the new playwrights visiting. The goal through it all has been one thing—to give back.
"Words Cubed is a Gift" 
"Little did we know, this volunteer work would change our lives," Diane said. 
Although the couple spends half the year in a retirement community in Arizona, they return to  Cedar City from approximately March to September to volunteer at the Festival. But even out of state, they are still involved with theatre. 
"There's community theatre [in Arizona], and Steve works the light board and I work as an assistant director and producer," Diane said. "It's been so rewarding, and we realized how much we've learned from the Festival." 
The Sharps explained that Words Cubed has only deepened their love for live theatre, as knowing what goes on behind the scenes has taught them to appreciate productions more fully. 
"We know now what it takes to put a play together, and can point out exactly why we like [certain plays]," Diane said. 
Another joy the program gives the Sharps is discovering new talent. Because the program seeks out contemporary playwrights, the couple enjoys how Words Cubed gives these playwrights hope and highlights their up-and-coming work in theatre.
"We discover the future playwrights who are going to make a difference, and [in turn] their work is a gift to us," Diane said. 
Although they have formed a fondness for most of the plays that have come through the program because of their close work with the playwrights, Diane especially loves Shunned by Larry Parr, while one of Steve's favorites is How to Fight Loneliness by Neil LaBute.
However, it's not just their love for the plays, the new play program, and live theatre that keeps them coming back, but the relationships they have made through the years at the Festival.
"It's been phenomenal. We've made amazing friendships with patrons, actors, and playwrights," Diane said. 
The Festival echoes these sentiments—expressing our gratitude for their work and friendship for nearly twenty years. Interim Artistic Director and Director of New Play Development Derek Charles Livingston expressed his gratitude profusely. 
"Diane and Steve's dedication [to the Festival and the new play program] is not just tremendous—but invaluable," Livingston said. "Not only do they bring a 'We'll do anything spirit,' and ethos, their longevity brings an institutional knowledge that rivals that of anyone on staff when it comes to Words Cubed work." 
For more information on the Words Cubed program that the Sharps have shaped, visit bard.org/plays/words-cubed.