Celebrating Shakespeare: The Bard's Birthday Bash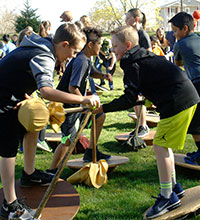 On April 23, 1564 (as near as we can tell), William Shakespeare was born to a respectable middle-class family in Stratford-upon-Avon, England. On April 20 and 21 of this year, the Utah Shakespeare Festival is throwing a birthday party! 
Over 450 years after his death, Shakespeare (aka the Bard of Avon) is the most produced and celebrated playwright in the world, so what better way to celebrate than the twenty-first annual Bard's Birth Bash on the grounds of the Festival and Southern Utah University?
The two days will be full of a variety of activities, including dancing the maypole, jousting contests, performing Shakespeare onstage, and eating cake with Queen Elizabeth. 
"It's a beautiful way to launch into spring, with kids singing and dancing out on the grass, talking about Shakespeare, and eating cake," Education Director Michael Bahr said. "It's a way to celebrate Shakespeare and theatrical performance, and to get a taste of theatre, dance, and youthful energy and optimism." 
After two years of the celebration being virtual because of the pandemic, Bahr is excited to return to the event in person. He is expecting that around 1,200 students will get to enjoy the birthday celebration.
The event is targeted toward local elementary school students, but all community members are welcome. Homeschooled students are encouraged to attend as well. All participants should register by emailing usfeducation@bard.org with the name of the school, the teachers, contact information, and the number of students. 
It is strongly encouraged that students come prepared to perform Shakespeare scenes for their fellow students. "We would be happy to come to your class to help you," Bahr said. Or you may email usfeducation@bard.org for further information and instructions.