Change in Shakespeare's Forests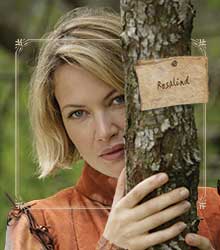 By Allison Borzoni
Forests are often just a rustic setting, but in Shakespeare's A Midsummer Night's Dream and As You Like It, forests are more than just a place. They are an adventure and an escape. In both plays, characters go to the woods and begin to change in ways they never would have predicted.
In A Midsummer Night's Dream, the forest is a safe haven for Hermia and Lysander as they plan their elopement. However, when Helena and Demetrius follow them into the woods, strange things begin to happen. The characters' escape from an oppressive law becomes an escape from reality as they are influenced by powers greater than their own. As they wander through the night-stricken forest, these young Athenians almost become new people, and in Bottom's case—an ass. When they leave the forest, they have changed for the better, but can't quite explain what happened during the night.
The Forest of Arden in As You Like It also acts as an opportunity for change. Before the play begins, Duke Senior has been exiled, and, according to rumor, "They say he is already in the Forest of Arden, and a/ many merry men with him; and there they live like/ the old Robin Hood of England. They say many/ young gentlemen flock to him every day and fleet/ the time carelessly, as they did in the golden world" (1.1.7–11). Duke Senior and the gentleman that join him in the forest are freed from earthly constraints, but they're not the only ones. Rosalind retreats to the forest once she is exiled and dresses as a man to travel safely, and even Oliver and Duke Frederick, the villains of the play, become better men in the Forest of Arden.
Although the forest is a place of change and opportunity, it's up to the characters to decide if the forest was a pleasant place to be. Duke Senior compares the forest to the court and says, "Hath not old custom made this life more sweet/ Than that of painted pomp? Are not these woods/ More free from peril than the envious court?" (2.1.2–4). And although Bottom from A Midsummer Night's Dream may have enjoyed his night of extravagance in the forest, poor Helena might disagree about how fun her adventures were that night.
In the end, Shakespeare used the forest to provide characters with a chance to become something new. They were free to escape the confines of the real world, much like what we hope for you when you attend the Utah Shakespeare Festival this summer.