Christmas Memories of Fred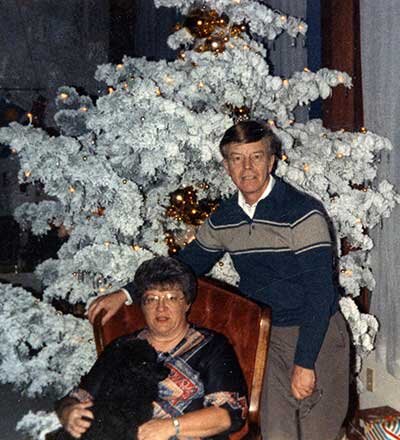 Barbara and Fred C. Adams in front of their Christmas tree sometime in the early 1980s.
This will be the first Christmas that the Utah Shakespeare Festival will be without its founder, Fred C. Adams, who passed away on February 6, 2020. All of us (staff, patrons, and friends) have our favorite memories of him. But his family members, of course, have the most poignant and playful. So, in the spirit of Mr. Adams, who loved Christmas, family, and the Festival, we have gathered some reminiscences from his family to bring the spirit of the holidays into all our lives during this season.
Dorcas Woodward, daughter
"Some of my favorite Christmas memories of dad from when I was a little girl in the '60s and early '70s, center around the 'Hall of Enchanted Trees' in the Auditorium Theatre foyer. The tradition started when some of his college students couldn't go home for Christmas, so he organized this project with and for them, and it turned into a Christmas gift for the whole community. They would spend hours collecting materials from the scene and costume shops and from local businesses to create imaginative 'themed' trees to fill the foyer. Dad always loved creating beautiful and interesting things, and this was the perfect outlet. . . . Our favorites were always the candy trees—until the year of the upside-down tree that hung from the ceiling. It was pure magic!" 
"As a young woman I was the model for the Juliet statue [which is now in the Pedersen Shakespeare Character Garden]. In those days, they cast several miniatures and sold them to raise funds for the large statues. Oh, how I wanted one, but I knew they were considerably out of our family's budget. One of our dear family friends who was a volunteer at the Festival for many years, bought one; and every time she saw me, would say 'You are looking so beautiful in my living room!' Years went by, and I figured there was no way I would ever own a Juliet. One Christmas morning the extended family was busily opening gifts when dad pushed a box toward me. I opened the box to see Juliet lying there. I started sobbing and looked up at Dad and said "How?" He was trying to control his emotions and gruffly said, 'Well, you had to have her.' Later, I found out that months earlier, he had gone to this friend and her children and explained things, and they had decided that Dad would pay her outstanding care center bills and when she passed away, Dorcas would have her Juliet."
Glynis Neves, daughter
"One of the most vivid memories of my childhood Christmases with Dad is the decorating of the tree. When Dorcas, Addison, and I were all very young, Dad liked to have the tree just so! It was a showpiece! We would pick a tree out at a lot as a family. Those trees were always so beautiful! Thick white flocking with little bits of greenery peeking through. When the tree was delivered, it was always an ordeal to wrestle it into place in the front room. Dad would have several canvases placed on the floor to catch any flocking that might fall, and a ladder at the ready. Dad and at least two other men would wrestle that tree into place, centering it in the windows. Then the fun began! Mom and Dad had boxes and boxes of fancy ornaments. They would stack them on the sofas and dad would begin the decorating. We kids were not allowed to help: this was DAD'S tree! He would start at the top with small gold and white ornaments, and he would place them each carefully. As he moved down the tree, the ornaments grew bigger and shinier. Once all the ornaments were placed, Dad would pull out a small shoebox and call us kids around. Handing us each a small rag dipped in vinegar water, he would open the shoebox to reveal crystal teardrops. Our job was to polish those crystal drops until they sparkled. Dad would then hang them from the points of the branches. We were so proud to be a part of the decorating process."
"Another memory surrounds Christmas Eve. This was a big family party at our house. All our family that lived in town came for dinner, games, and fun the night before Christmas. Dad would spend the day making potato soup, and mom would make pumpkin bread. As an extended family we would eat together: kids in one room and the adults in another. Dad would light the fireplace and have Christmas music playing in the background. It was magical! After dinner, we would all gather around, and the kids would put on a show. This was the one night of the year we all showcased talents. There were songs, violin pieces, Addison playing 'Jingle Bells' on the bugle mouthpiece, etc. The evening would end with Dad opening up the family Bible to read the story of the First Christmas. As he read, the children would act the story out, using costumes my mom and her sister put together from robes, towels, and bits of tinsel. We thought we were as good as anything we ever saw on the Festival stage! It was always wonderful to hear Dad reading the story in his 'actor' voice. It gives me chills, now, to remember it!"
Addison Adams, son
"Dad used to flock our Christmas tree using a canister vacuum to apply the flocking. His old neighbor and friend Bob Clark would find him a tree large enough for his eighteen-foot ceiling, and Dad would set up in the vacant lot next door and start applying bags of flocking. Now, the flocking nozzle would frequently clog with wet clumps of material, and Dad would dig it out with a butter knife. Once I reached the seasoned age of about five or six, I was allowed to hold the butter knife in between nozzle jams. I would also hold the ladder for Dad as he got the highest branches. After about half an hour mom would drag me away, to save my tender ears, as the machine's nozzle got clogged more frequently. Mom always joked about this being where my colorful vocabulary all started!"
"In more recent years, I loved watching Dad interact with all the grandkids walking through Christmas Lane. The decorations were always magical to him." 
Joshua Adams, son
"Every year, Christmas Eve was spent at our house, and Dad would end each Christmas Eve reading the story of Christ's birth from the Bible, followed by ''Twas the Night Before Christmas' (not from the Bible). It's this last memory that sticks with me, as I have now been living 3,000 miles away from Utah for thirteen years, unable to spend the holidays with my Utah family; so when my sons were very small, Dad recorded himself reciting this and attached it to a hard-back version of ''Twas the Night Before Christmas,' and it is now one of the most cherished gifts my boys have of their late Grandfather—and for me. It allows that old memory to live on."
"The second fond memory I have is short and silly. When the four of us children were small, Dad and Mom would have all of us sleep on the floor of their bedroom, so we couldn't sneak out into the living room before he was ready for us on Christmas morning. It kept us all in one place, so they could do whatever voodoo they had to prep for Christmas day. Dad would NEVER allow us to leave their bedroom, no matter how early we woke up, and he'd twist the knife a bit and do his best to sleep past 8 a.m., then make us wait even longer as he went out, put on some music, started a fire, and made us orange juice and toast. This was all preparation for Dad to be able to have a good seat in the living room, so he could witness all of our faces, one by one, as he called to us to 'come on out.' His greatest Christmas gift was to see the joy on our faces—and maybe his yearly puzzle." 
Marina Sandall, granddaughter
"One of my favorite memories was the year Grandpa decided to switch from a gold to a purple Christmas. I was thrilled because purple was my favorite color. He had all the ornaments, decorations, even a purple nutcracker. But he couldn't find the right lights for a Christmas tree, so we spent hours together hand painting the bulbs on strands of white lights, purple. And when we finished, he stood back and just stared at the tree in amazement. It was perfect."
Olivia and Jamison Woodward, grandchildren
"I will always remember how excited Grandpa Fred was to decorate everything at Christmastime to make his home feel like a cozy winter wonderland. He loved putting up lights, blingy Christmas trees (the purple ones were favorites), and most of all a tiny, multi-colored, twinkling ceramic Christmas village. When we would visit, I remember seeing the scenes that he had so carefully constructed and being mesmerized by the miniature details. He was so proud of his beautiful decorations, and I think he loved them so much because of the joy that they brought to everyone."
Katie Neves, granddaughter
I remember every year when I was a little girl, my grandpa would dress up as Ebenezer Scrooge for his role in A Christmas Carol: On the Air. While I would be in the kitchen helping my mom make Christmas treats, my grandpa would stalk out, top hat and cane, glasses perched on his nose, and a gravelly voice. He would walk into the kitchen, scowl around at all of us, then say, "Bah Humbug." He made a pretty scary Scrooge! Then, after a beat, he'd wink at me, and I knew that he was still my grandpa underneath the costume. He'd whirl a scarf around his neck and leave the kitchen, and I knew I was in for a treat at the theatre that night."
Alan Neves, son-in-law
"One of Fred's great Christmas family traditions was sharing Disneyland with his kids and grandkids. He made it a year-long occurrence. Even though we would only travel there as a family every couple of years, he started it with Christmas and would hang tickets for each individual on the tree. That would build excitement for everyone and in turn would fuel his passion for this family tradition. This year will be difficult having Christmas without Fred but we will be forever grateful for him and the path he put forward for all of us."
Gene Woodward, son-in-law 
"A few years ago Dad had stopped at the huge Christmas store in Wisconsin and brought back cardboard glasses that you could wear, and when you looked at Christmas lights the glasses would turn the lights into stars, snowflakes, reindeer, Santa faces, etc. He couldn't get over how magical they were. When the family was all together in December, he let the grandchildren all pick the one they wanted; and we headed off to Christmas Lane. He could hardly contain his excitement watching the grandkids swapping glasses to try all the different kinds and he giggled and oohed and aahed each time one would make him try on their glasses."