11 At-Home Dating Tips Inspired by Shakespeare's Characters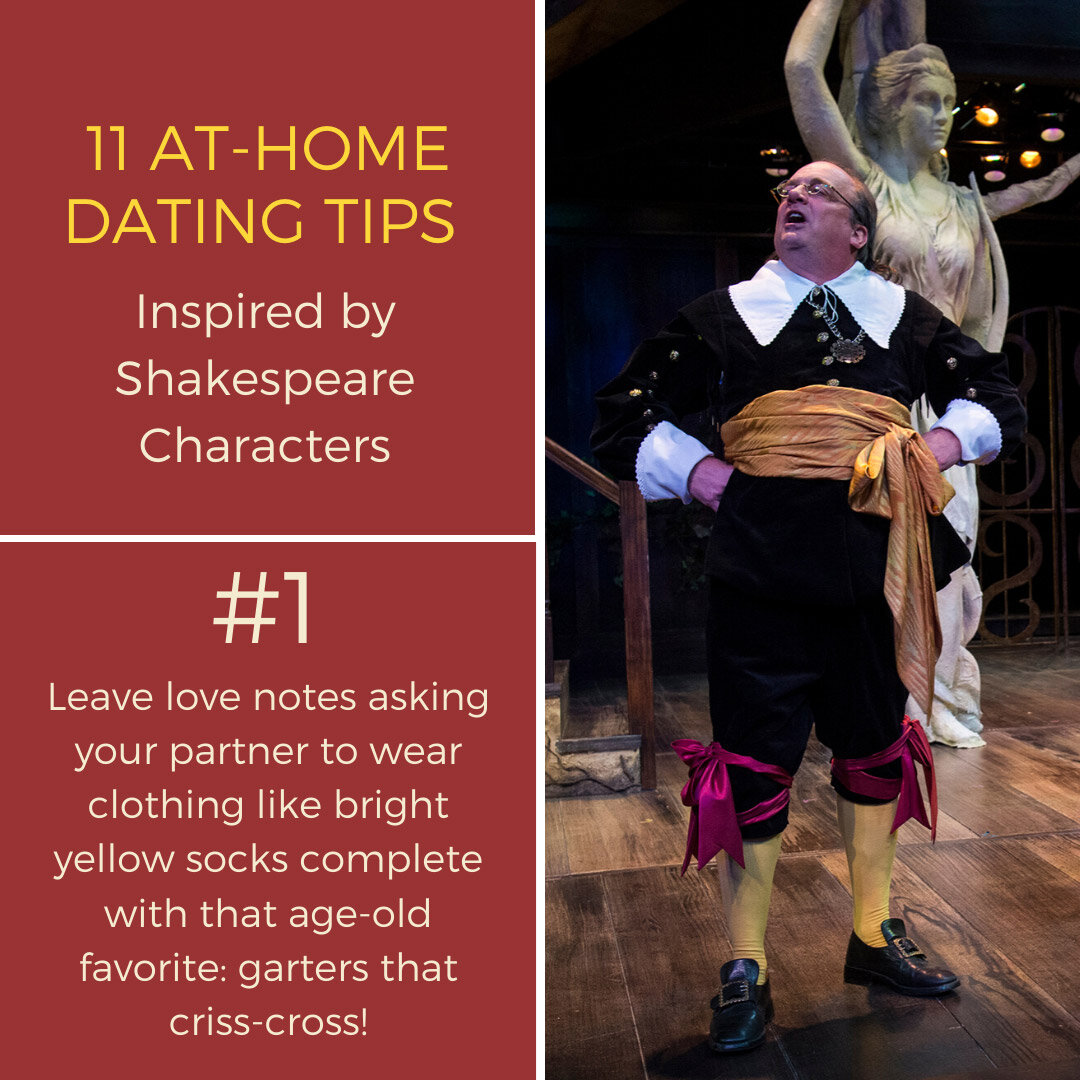 Whether you're still isolating at home or you'd just prefer not to go out, some of Shakespeare's well-known characters may have some tips for dating while you stay at home.
Remember Twelfth Night? Leave love notes encouraging your partner to wear a favorite item of clothing, especially if that item is bright yellow socks complete with that age-old favorite: garters that criss-cross. Also, smile a lot. 
Gender swap like in As You Like It! Dress as the opposite sex! Woo each other. Or defend each other in a court of law, in The Merchant of Venice-style.
Or try a little Romeo and Juliet and have a masquerade ball. Grab a mask (that shouldn't be too hard these days), put on some tunes (preferably featuring lutes, recorders, and sackbuts), and dance the night away, falling into forbidden love over and over again. 
Switch places with your identical twin, and watch the comedy and romance unfold, like in The Comedy of Errors. 
Take a cue from Measure for Measure: become a nun. The charm is irresistible!
Have your own A Midsummer Night's Dream and wear a donkey head, an immediate turn on. Also, require your small minions (a.k.a. your children) to feed you snacks, play music, and dance to keep you entertained.
Benedick and Beatrice in Much Ado about Nothing are one model couple. Trade barbs, launch jests, and quibble. It will definitely enhance your relationship, and your love will be unbeatable.
What about Henry V? Battle for the crown! Fight your "opponent" with whatever is lying around the house. The winner gets to wear the crown, bestow rights and pardons, and be served for the rest of the day. Also, learn to speak clumsy French to each other.
Pretend to see a ghost like Hamlet. It will drive your spouse crazy! 
Take out a loan of 3,000 ducats with which to woo your significant other as in The Merchant of Venice. That's a mere half a million dollars, approximately. No problem (just make sure you can pay it back). Wealth is everything!
And finally, act shrewish and froward like The Taming of the Shrew and see where that gets you! 
Feel free to take a page from any of Shakespeare's characters; after all, he created some of the greatest love stories and characters of all time. Don't, however, follow his personal example. He spent most of his time in London, while his poor wife Anna Hathaway lived over a hundred miles away in Stratford-upon-Avon. With no Zoom calls or cell phones.