Desire the Spleen: Bringing out the Humors in Falstaff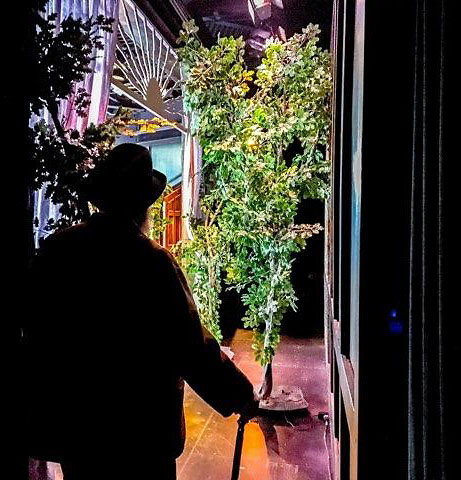 John Ahlin backstage about to make his first entry of the evening as Sir John Falstaff in The Merry Wives of Windsor.
By John Ahlin
This is the second in a series of blog posts written by the actor play Sir John Falstaff in this season's The Merry Wives of Windsor.
Before nervously charging "over the top," English World War I soldiers would often recite Henry V's "Once more unto the breach" speech quietly to themselves. Likewise before entering a funny scene, a jittery actor will sometimes mutter the old quote "dying is easy . . . comedy is hard!"
Oddly, it wasn't some great comedian or clown who expressed that sentiment, but distinguished English actor Edmund Gwenn. Famous for portraying Kris Kringle in the classic (but not quite laugh-riot) Miracle on 34th Street, Gwenn, on his death bed, reportedly suggested playing comedy is more difficult than shuffling off this mortal coil, and then died.
Being funny on demand is like trying to get the hiccups on purpose—difficult. So imagine the butterflies an actor feels, about to enter as Falstaff, knowing the knowledgeable Utah Shakespeare Festival audience is sitting there thinking "Oh boy, here comes the funniest character in all Shakespeare." And worse, a knowledgeable actor knows that Falstaff's first scenes in both Henry IV Part One and The Merry Wives of Windsor are not particularly funny. (Falstaff's first scene in Henry IV Part Two, however, is hilarious.) 
Backstage before a comedy, some actors will want to draw up both knees and go fetal, but to me the trick is to grab those knees, yell "Cannonball!" and jump right in. Be fearless. Here are a few other quick tricks I use to get to Falstaff's funny:
Go big, but go real.  I was trained in the Method and in the Catskills. Borscht Belt comedy is famously big, like Falstaff, but the last step in technically building a larger-than-life, loud, humorous character is, ironically, the first lesson in Method acting: truth. I explore, find, and play the realities of Falstaff—not comedy of comment or clowning, but comedy of behavior.
Cough up a hairball. That first laugh is vital, so I construct a small (but truthful) moment early on to tell the audience it is okay to laugh.  For example, as a just-awakened Falstaff in Henry IV Part One begins his groggy, arcane banter with Hal, I'll comically cough up some reminder of the previous evening's drunken carousing. This familiar "wait, what happened last night?" reality hopefully elicits a laugh while also detailing who Falstaff is, and where he is, in life.
Ask for the tea. Lunt and Fontanne, the famous American acting couple had simple advice: "Don't ask for the laugh, ask for the tea."  In other words: trust the material.  Once at a Twelfth Night talkback for students, I was describing how Shakespeare would often put humor in sad scenes. I told them a very funny Gravedigger was found in Ophelia's grave, and a whole row of high school girls shrieked in unison. Then one cried out, "She dies?!" It turns out they were reading Hamlet in class and hadn't got to that part.
I must remember to trust Shakespeare. He's on my side. It's natural to forget how comical The Merry Wives of Windsor is after many rehearsals, but its twists, turns, and surprises will be fresh, alive and humorous for the audiences seeing it anew. It hasn't lasted 421 years as one of Shakespeare's funniest comedies by accident.