Diving into How to Fight Loneliness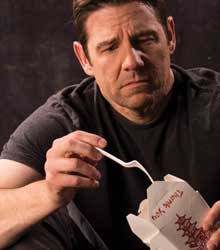 Brian Vaughn as Brad in How to Fight Loneliness
As we get closer to the world premiere of How to Fight Loneliness, we get more and more excited. This is an opportunity for the Utah Shakespeare Festival to not only bring Neil LaBute, a major voice in American theatre, to the Festival, but to perform a major new work by him for the first time anywhere. In order to dive deeper into LaBute's words, we sat down with director David Ivers to learn more about this engaging new play.
The story of How to Fight Loneliness surrounds a young woman, Jodie, who is struggling with a terminal illness and is faced with decisions regarding life and death. During the show, Ivers wants the audience to experience every moment of tension, comedy, and realistic language LaBute is known for. LaBute's modern, aggressive, and honest language is what continues to draw Ivers to the playwright and How to Fight Loneliness. Like Shakespeare, LaBute's characters experience a situation where everything is on the line.
After seeing How to Fight Loneliness, Ivers wants audiences to have discussions, but his direction and the script will not steer the conversations in any specific direction. LaBute's plays focus on the characters, their journey, and the difficult decisions they face, all elements Ivers wants audiences to discuss after seeing the show. The circumstances and choices these characters face resonate with many central conflicts in Shakespeare's work.
In addition, this production is opening the door for the Festival to discover new works and playwrights. How to Fight Loneliness received a staged reading as part of the Festival 2016 Words Cubed new play series, and producing this show will allow the Festival the opportunity to continue to cultivate powerful new plays like LaBute's and discover new playwrights of the future.