Education Tour Hits the Road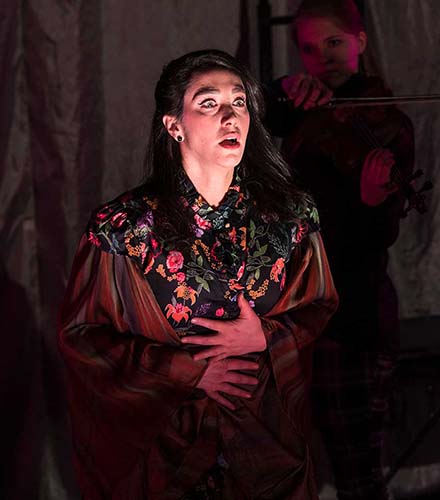 Stefanie Resnick (left) as Lady Macbeth and Jennifer Vosters as Malcolm in the Festival's 2019 Shakespeare-in-the-Schools production of Macbeth
The Utah Shakespeare Festival is once again hitting the road with its Shakespeare-in-the-Schools touring production—this year performing one of the world's first psychological thrillers, William Shakespeare's Macbeth.
The tour will be performing nearly 60 shows for over 120 schools and 25,000 students across the states of Arizona, California, Colorado, Nevada, and Utah. The cast and crew will be on the road for thirteen weeks from January through April to bring this classic tragedy to schools, community centers, and correctional facilities. Students will have the chance to watch the show and then participate in a post-show discussion and workshops in Stage Combat, Performing Shakespeare's Text, Technical Theatre and Developing Character through Improvisation.                                             
Macbeth will premiere in Cedar City with school performances on January 22 at Foothill High School Youth Detention Facility and on January 22 and 23 at the Southern Utah University Auditorium Theatre. The first public performance will be on January 23 at 7:30 p.m., also in the Auditorium Theatre. General admission tickets are $10 and can be purchased at the Festival ticket office at 800-PLAYTIX (800-752-9849) or online at www.bard.org/tour. Tickets purchased ahead of time will be available at will call in the Auditorium Theatre. On the night of the performance, only cash and checks will be accepted at the Auditorium Theatre door, whereas credit and debit cards will be accepted at the Festival's main ticket office next to the Anes Theatre. Admission is free for SUU students.                                                     
Michael Bahr, the Festival's education director for twenty years is directing this year's touring production. Previously he taught high school in California and northern Utah. He has created numerous outreach programs that serve over 30,000 students annually. He has a bachelor's degree in theatre and a masters degree in education from Southern Utah University. 
"For many of our audiences this will be the first time they have seen a professional Shakespeare production," said Bahr. "This program seeks to entertain, enrich, and educate with innovative  and accessible performances to rural and urban schools and communities, many of which would not have this opportunity otherwise."  
Actors in the touring company include a number who have worked at the Festival, as well as professionally across the country. They are:
Cordell Cole (Witch, Macduff) received his BFA in acting from Brenau University (Gainesville Theatre Alliance). He is new at the Festival, but some favorite credits include American Shakespeare Center Alliance Theatre, American Players Theatre, Georgia Shakespeare, Essential Theatre Festival.
Abby Nakken (Witch, Duncan) is a recent graduate of Southern Utah University and a Cedar City native. She has appeared at the Festival in Romeo and Juliet, Shakespeare in Love, Fiddler on the Roof, and The Greenshow. Other credits include work at Second Studio Theater Company and the Neil Simon Festival.
Stefanie Resnick (Witch, Lady Macbeth) previously toured with the Festival's The Tempest and A Midsummer Night's Dream. Originally from New York, she received her BA in journalism from UW-Madison and her MFA in performance from UNLV. She has performed in all but five U.S. states.
Tim Sailer (Macbeth) is new to the Festival. He received an MFA from the University of Houston and spent five years at the American Shakespeare Center in Staunton, Virginia. Other theatres include Texas Shakespeare Festival, Houston Shakespeare Festival, Arkansas Shakespeare Theatre, and Commonweal Theatre Company.
Karen Thorla (Banquo, Lady Macduff) is a New York based actor and writer with a BFA from Savannah College of Art and Design. She has worked with the Utah Shakespeare Festival (Julius Caesar, educational tour of A Midsummer Night's Dream), Great Lakes Theater, Idaho Shakespeare Festival, and others.
Jennifer Vosters (Malcolm, Fleance, Musician) is an actor, director, and musician from Wisconsin. She performed at the Utah Shakespeare Festival in 2017 and has also worked at Lyric Repertory Company, Notre Dame Shakespeare Festival, Flagstaff Shakespeare Festival, and several Milwaukee theatres. 
In addition, the tour company includes two technical and administrative artists:
Austin Andrews (Company/Tour Manager) is returning to the Festival for his fifth season. He is recent graduate of Southern Utah University's BFA technical theatre and design program and has worked on productions such as the Festival's 2016 Henry V and Much Ado about Nothing.
Casey Duke (Technical Director) comes from Mississippi, where she earned her BA in theatre in 2014. New to the Festival, her previous credits include multiple seasons at Busch Gardens Williamsburg, designing lights in the Tallahassee circuit and in regional summer stock companies, and mounting the then-Broadway-bound Holiday Inn at Goodspeed Musicals.
In addition to support from the Shakespeare for a New Generation program which is sponsored by the National Endowment for the Arts, this tour's school performance partners are the Utah State Office of Education: Professional Outreach Programs in the Schools, Wells Fargo; Mountain West Small Business Finance, Ally Bank, and Southern Utah University.                                                                                                                     
For more information, visit www.bard.org/tour