Enjoy a Festival Christmas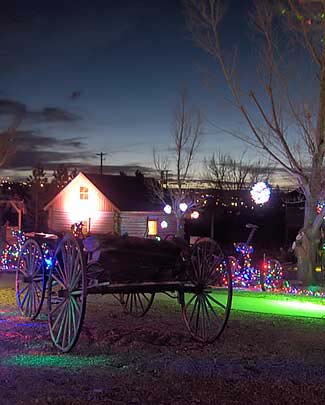 Are you looking for a fun, family friendly, affordable way to celebrate the Christmas season? How about Christmas at the Homestead—the Frontier Homestead State Park Museum, that is!
The Utah Shakespeare Festival and the popular state park in Cedar City are once again partnering to provide a Christmas celebration December 5 to 9 from 5:30 to 8 p.m. each day. The cost is only $2 per person or $5 for the entire family, and there will definitely be something for everyone—young, old, and in between.  As an extra holiday treat, all proceeds from December 7 will be donated to the Make-a-Wish Foundation.
"Nothing will get you in the holiday spirit quicker and more completely than spending an evening at Christmas at the Homestead," said Joshua Stavros, Festival media and public relations manager. "It's an enchanting experience with everything that makes Christmas special: music, friends and family, entertainment, and holiday goodies."
All the museum's regular features, hands-on activities, and exhibits will be open each night. In addition, different entertainment will be featured each evening, including music and dance at 6 and 7 each evening and Christmas story readings at 6:30 and 7:30. Specific performers and readers will be announced in the coming weeks.
Walking through the various museum structures, visitors will get a feeling of yesteryear. Each will be decorated with a themed tree and other decorations. Some of the trees will be favorites from previous years, but a few new ones will also make their premieres. Ben Hohman, properties director for the Festival, has designed the lighting in the park.
Of course, Santa will be in the Hunter House each evening from 5:30 to 8. Each night will also include different treats: popcorn and hot cider, scones and hot chocolate. Roving musicians will entertain holiday revelers as they walk among the various buildings. Each evening will also include different hands-on activities: print-making for Christmas cards, dipping candles, etc.
"This is a great opportunity for individuals and families to benefit from an affordable and entertaining holiday experience," said Park Manager Todd Prince. "Christmas at the Homestead gives us a chance to celebrate our rich heritage and give something back to the community."
The park is located at 635 North Main Street in Cedar City. For the latest information and details, visit the museum website: www.frontierhomestead.org.