Othello and Every Brilliant Thing Tours Come to a Close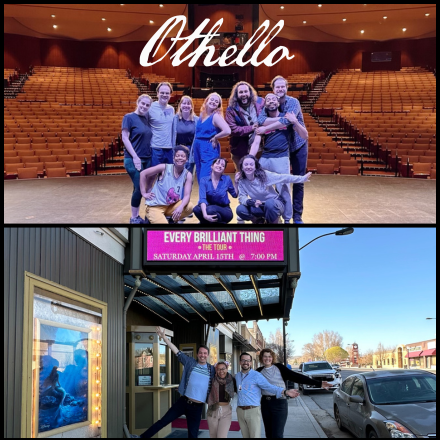 The Festival has been in the midst of two touring productions since January of this year–– Othello and Every Brilliant Thing––and these productions recently came to a close. 
"We are so pleased to report that both the Shakespeare in the Schools and Every Brilliant Thing tours returned home safely to Cedar City on Saturday, the 22nd of April," Associate Education Director Stewart Shelley said. 
Othello, directed by Cordell Cole, toured for the Shakespeare in the Schools education program which was funded by the National Endowment for the Arts/Arts Midwest, Utah State Office of Education, and Ally Bank, and Every Brilliant Thing was funded by the Utah State Legislature. While the audiences were similar, the goals for each show were different.
Othello was designed for audiences to have a condensed yet complete theatrical experience, with lights, costume, and sound design. Every Brilliant Thing was a much smaller production with only one actor that aimed to reach students with important messages about mental health and hope. 
Othello 
Shakespeare in the Schools is a program that "brings quality Shakespeare performances and workshops to schools and communities throughout the West," and has been doing so for twenty-nine years. This year was no exception. This time the touring company performed for nearly 10,000 students and 600 teachers and staff. 
Since January 30, a team of ten members traveled across Arizona, Idaho, Nevada, and Utah to bring timely messages of the dangers of jealousy, racism, and manipulation found in Othello to primarily middle and high school students. The team consisted of Tour Manager Abby Nakken,  Stage Manager Lindy Rublaitus, Technical Director April Salazar, and actors Nazlah Black, Darin Earl II, Ian Geers, Rachel J. Jones, Shay Jowers, Noah Ratgen, and Nic Sanchez. 
View photos from the Othello tour here.
Every Brilliant Thing 
Filled with humor and inventiveness, the plot explored hope and depression, change and uncertainty, relationships and risk, guilt and forgiveness. 
Also directed by Cordell Cole, the traveling company consisted of just four members: Tour Manager Jordan Simmons, Stage Manager Kathryn Whilden, and actors Kat Lee and Jeremy Thompson, who took turns playing the role. 
Beginning February 13, the tour traveled to numerous schools and communities in Utah. The production was free to any school in Utah that was interested and was performed for almost 2,000 students and 500 adults.
View photos from the Every Brilliant Thing tour here.
On the Road
The touring season presented challenges, such as record snowfall and incredibly emotional shows that required a lot from the teams. But the company members of the two tours were pleased to reach so many people. 
"We had incredible responses from our audiences with thought provoking and exciting questions during our talkbacks after the shows," Shelley said. "We are sad to see our team depart, but incredibly proud of the work they have done over the past four months."
2024 Tours
Although the tours recently had their last performances this year, touring will continue in the spring of 2024.  
The title for next year's Shakespeare in the Schools was recently announced by the Festival's education staff. 
"2024 will be the 30th Anniversary of the Festival's Shakespeare in the Schools program! To mark this milestone, we are thrilled to be presenting Shakespeare's incomparable Hamlet for schools across the region," Education Director Katherine Norman said.
"In addition to our immense gratitude for the work of these two tours, we are also excitedly looking forward to next year! 2024 will be the third iteration of Every Brilliant Thing throughout the state of Utah," Norman said. "We are thrilled to be able to bring this hopeful and life-saving message to even more students."
For more information about next year's educational touring productions, please reach out to the Festival's education department at usfeducation@bard.org.