Every Brilliant Thing to Tour Again 2023-2024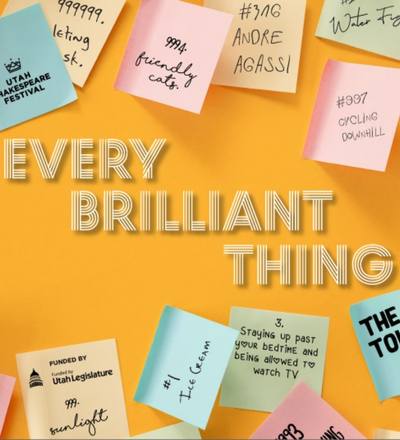 By Liz Armstrong
CEDAR CITY, UT – Offered free by the Utah Shakespeare Festival to every public high school in the state of Utah, Every Brilliant Thing will tour once again. In 2019, the play swept the state with the "intention of cultivating the use of proactive, life-affirming communication when you or those you love are confronted with depression." 
Director of Development and Communications Donn Jersey said Every Brilliant Thing is one of the most critical pieces of work the Festival has ever produced. 
"Every Brilliant Thing demonstrates why no darkness lasts forever; even then, there are stars," Jersey said. "It reminds us of things hiding in plain sight that make life worth living that we don't see when we are suffering."
Starting this February, the show will tour across the state of Utah to bring the heartwarming and comforting message to secondary school students. To reach as many schools in Utah as possible, the tour will continue in spring 2024, as well. 
"This show is so relevant, and it's the relevancy that heightens the importance," Associate Education Director Stewart Shelley said. "This show opens up dialogue in a very positive manner and is a door that students who are experiencing anxiety, depression, or suicide ideation, can walk through to get the resources that they need."
The one-person play tells the story of someone who learns that their mother is in the hospital after her first attempt to take her own life. The narrator then begins a list of every brilliant thing in the world worth living for: "ice cream, water fights, staying up past your bedtime and being allowed to watch TV, the color yellow, and things with stripes." 
Filled with humor and inventiveness, the plot explores hope and depression, change and uncertainty, relationships, risk, guilt, and forgiveness. 
Directed by Cordell Cole, the traveling company will consist of just four members–Tour Manager Jordan Simmons, Stage Manager Kathryn Whilden, and actors Kat Lee and Jeremy Thompson. 
Interim Managing Director Michael Bahr noted that the first touring productions cured hearts, amplified voices, and saved lives. 
"Over the next two years we will be canvassing and performing across the state, bringing messages of hope and serving as partners to Utah schools," Bahr said. "This production has been instrumental in cultivating consequential conversations about suicide and depression with students and their families."
Simmons noted that the project has four goals, the first being to create an active dialogue between all stakeholders about emotional and mental well-being in regards to depression and suicide. 
"I hope students learn that they're not weird, they're not alone, that things get better, and that life goes on," Simmons said. "We want every student to know that when they need help there is help available." 
The team hopes to increase awareness of mental health resources available for students and find applicable ways to use these resources. The other goals are to provide an artistic experience that enables young people to see things from a new and positive perspective, and to inspire people to see the beauty in life. 
For Simmons, the show hits close to home, and why he is eager for as many students as possible to see Every Brilliant Thing. 
"Having experienced suicide ideation periodically in my own life, it wasn't until I was an adult that I've been able to openly address it," Simmons said. "I wish I would have experienced something like this when I was a teenager that would have allowed me to get help."
Funded by the Utah State Legislature, the production is free to any secondary education school in Utah that is interested. The tour will begin February 13, 2023, and will run through the end of April. If you would like Every Brilliant Thing to come to your school or community, please complete this form: Tour Request Form.
For more information on the play, access the study guide here.
For questions, contact Simmons at 435-299-0567 or brillianttour@bard.org.