Fall Favorites: Fun in Cedar City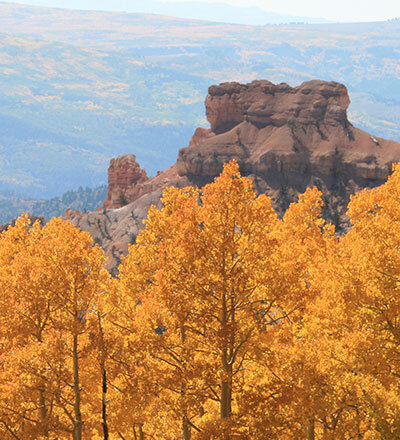 By Liz Armstrong
We can't be*-leaf* it! This is the last week of the 60th season of the Utah Shakespeare Festival. Although the season is ending this Saturday, there are still plenty of fun fall festivities this time of year that we think you really *autumn* know about.
Take a Drive: Fall Color Loop
Orange you glad it's fall? There is nothing quite like the vibrant yellow, orange, and reds the fall leaves bless us with during this time of year. 
Parowan became the first incorporated city in Iron County in 1851, and this little town is the start of the Fall Color Loop that follows Highway 143. Snuggle up in cozy clothes, hop in the car, and start in Parowan up to Brian Head Resort, and then head east toward Panguitch. 
Enjoy a Scenic Stroll: Cedar Breaks Rim Trail or Coal Creek Trail
At over 10,000 feet in elevation, Cedar Breaks will have the cool, crisp fall air you were wishing for in the heat of the summer. There may even be a skiff of snow at the top, so bring a jacket. Hiking around the rim will give you a whole new Cedar Breaks experience, bringing you up close and personal to the breathtaking orange and red rock formations. The view from the Ramparts overlook is really quite unbelieveable.
Not wanting to drive over 20 miles to the top? Enjoy the fall colors on the trail right at the entrance of Cedar Canyon. Running through three parks, this trail runs from Bicentennial Park east through the mouth of the canyon.  
What the Sheep? Cedar Livestock and Heritage Festival
The Sixteenth Annual Cedar Livestock and Heritage Festival will be October 29–30. Come enjoy the variety of activities, from rodeos to a dutch oven competition and everything in between, so saddle up and ride on over to the Cross Hollows Events Center located at 11 North Cross Hollows Drive. 
Don't miss the sheep parade! You've never seen anything quite like this. Around 1,000 sheep (we're baaaaaaffled too) will be herded down Main Street on Saturday, Oct. 30 at 10 a.m. Beginning at 200 South and ending at 400 North, there will also be sheep wagons, antique tractors and vintage cars. 
It's like transporting back in time and enjoying a quick glimpse of the Old West—this is one of the most unique events Cedar City has to offer. 
Oh My Gourd! Visit a Pumpkin Patch
Here's pumpkinto talk about. Way back in the 1800s, the Irish began carving vegetables to keep away "Stingy Jack," who was cursed to eternally walk the earth according to legend. Although pumpkins didn't grow well in Ireland, Irish immigrants quickly learned that the pumpkins in America were ideal for their carving tradition.
Now, it's just pure fun, and for many, pumpkin-carving is the ideal fall activity, so gourdbig or go home!
Two favorites near Cedar City are:
The Robinson Family Pumpkin Patch is located at 1450 W. Industrial Road in Cedar City. Bring a date, family, or a friend and pick out your very own pumpkin and sweet corn! Open from Monday to Friday at 3 p.m. until sunset and Saturday at 9 a.m. until sunset, the event offers hayrides and petting the farm animals.
The Judd Pumpkin Patch is in picturesque Paragonah north of Cedar City at 314 E. 270 North and is open Monday through Saturday from 9 a.m. to 7 p.m. The pumpkins are thirty cents a pound, wagon rides are $2, and barrel train rides are $1. But you can roam the pumpkin patch and the petting zoo for free.
And So Much More!
You won't watch to miss a thing this fall. For a complete listing of things to do and places to see in Cedar City and Iron County, go to visitcedarcity.com.