Fall Food Drive: Get Half-Off Tickets!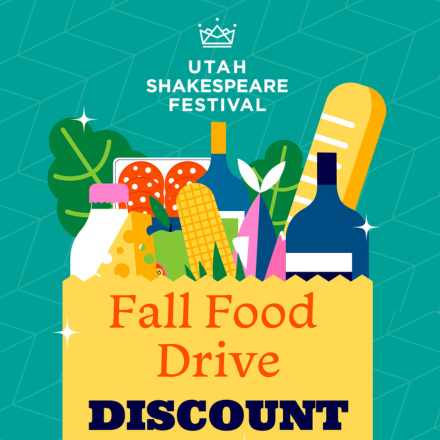 The Utah Shakespeare Festival is back with its 19th annual Fall Food Drive, taking place now through October 7.
This year, the Festival is collaborating with the Iron County Care and Share to make a meaningful impact in the community by supplying food to those who need it most. And by helping, you can get half-price tickets.
Residents of Iron, Beaver, Washington, Kane, Garfield, Piute, and Lincoln counties are invited to donate. For every five non-perishable food items donated, guests receive a half-price ticket to a play of their choice.
This special offer will replace the standard local discount for the duration of the food drive. There is no limit on the number of half-off tickets local guests can get. Please note that Premier Seating is not available for this promotion.
"Supporting local food and homeless shelters is not just an act of charity; it's a powerful statement of our community's compassion and resilience," Director of Development and Communication Donn Jersey said. "When nourishing our neighbors in need, we nurture the bonds that hold us together, creating a stronger, more caring society for all."
Iron County Care and Share is a private, non-profit organization dedicated to providing compassionate assistance and resources to individuals and families in need, offering them exits from crises and pathways to increase their stability and self-sufficiency.
It was founded in 1984 by local churches to address hunger in the community, and almost 40 years later, the Care and Share is still working to help those in need.
Executive Director of the Iron County Care and Share James Jetton expressed that Iron County faces the second-highest poverty rate in Utah, which means many face food insecurity daily.
"Through food drives, we come together, offering a helping hand to those in need," Jetton said. "It's not about being heroes, but about being good neighbors, ensuring everyone has a seat at the table."
This season, there's a heightened demand for items like canned meat, peanut butter, and beans. The pantry is also in need of pasta and rice.
The Festival typically receives over 3,500 pounds of food each year for the Iron County Care and Share. Hosting its 19th annual Fall Food Drive, the hope is to gather just as much - if not more - to contribute.
To participate, bring food items and proof of residency to the Festival ticket office, open 10 am–5 pm on Mondays and 10 am–8 pm Tuesday through Saturday. Phone service ends at 7pm. Seats may be reserved in advance. Tickets must be purchased in person, as this offer is not available online. For questions, call 800-PLAYTIX.
"The Festival cares deeply about our community. Please join us in supporting our local Care and Share," Jersey said.
Monetary donations are accepted as well. Click here to donate to the Iron County Care and Share.