Festival Adds An Iliad Performances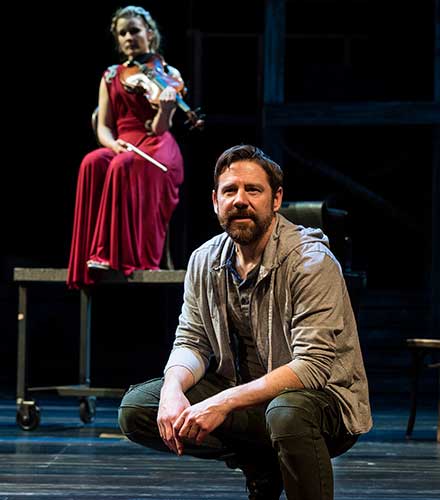 Katie Fay Francis (left) as The Muse and Brian Vaughn as The Poet in An Iliad
CEDAR CITY, UT — In an effort to make what many are calling "the favorite production of the season" even more available, the Utah Shakespeare Festival has announced additional performances of the spellbinding play An Iliad. The largely one-person show, featuring Artistic Director Brian Vaughn as The Poet, is currently playing in the Randall L. Jones Theatre, but numerous additional performances have been added in the intimate Anes Studio Theatre beginning September 4 and continuing until October 13.
"In a season of great performances, An Iliad is becoming the favorite of many of our guests," said Tyler Morgan, director of marketing and communications. "And we believe it will be even more powerful and thoughtful in the 200-seat Anes Theatre."
Matt Adams of Front Row Reviewers Utah raved about the show: "To be honest, I was a bit apprehensive about attending An Iliad. This is a different kind of play than what I usually seek out," he said in his review. "Soon after the production started, I found that I had not needed to worry. This is a lively and riveting production, and the story is accessible and impactful."
Then he concluded with the following: "Good theater stays with you long after the performance ends, and at least for me, this has been the case with An Iliad. Don't miss your chance to be impacted by this powerful piece."
In this modern retelling of Homer's classic, the Trojan War is over, and The Poet has seen it all. He lived through the unquenchable rage and endless battles, not just of this epic war, but of war through the ages. As he tells his tale in modern language, it at times threatens to overwhelm him; but he continues because he hopes, by shining a light on the history of man's attraction to violence, destruction, and chaos, he can perhaps end it.
Of course, An Iliad is only one of seven plays onstage at the Festival right now, including Henry VI Part One, The Merchant of Venice, The Merry Wives of Windsor, Big River, The Foreigner, and Othello.
Tickets are now on sale at bard.org, by calling 800-PLAYTIX, or by visiting the Festival ticket office.