Festival Adds Performances to Sold Out Murder for Two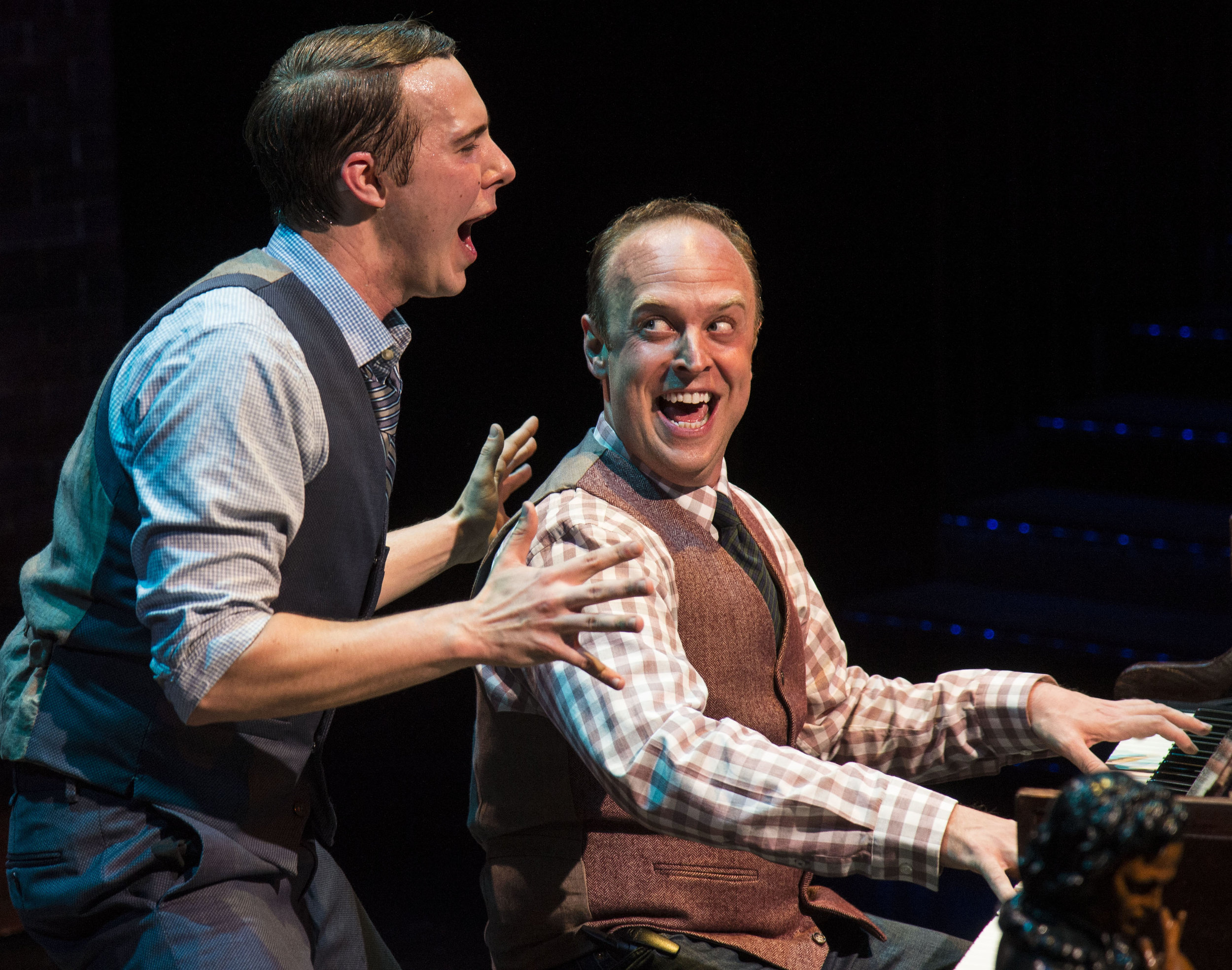 John Wascavage (left) as The Suspects and Paul Helm as Marcus Moscowicz.
The Utah Shakespeare Festival's production of Murder for Two has become such a hit that almost all performances for the rest of the season are sold out. So, to accommodate the many guests who still want to see the show, the Festival is adding two additional performances.
The extra performances will be October 17 and 19 at 7:30 p.m. in the Eileen and Allen Anes Studio Theatre.
The hilarious musical murder mystery Murder for Two has been showing since August 4, with every show sold out or nearly so. "We are thrilled that the show has been so popular with our guests," said Joshua Stavros, media and public relations manager. "And we are excited to be able to add these performances so others can see this amazing two-man masterpiece."
The Salt Lake Tribune said the show is "clever, fast-moving and entertaining." The Utah Theatre Bloggers Association added that it is a "perfectly lovely surprise." And The Spectrum said the play "will have you laughing so hard that tears stream down your face."
Everyone is a suspect in this two-person hilarious musical murder mystery with a twist: One actor (Paul Helm) plays Marcus Moscowicz, a police officer and would-be detective who investigates the crime. The other (John Wascavage) plays all the suspects. And they both accompany themselves on the piano! This zany blend of classic musical comedy and madcap mystery is a highly theatrical duet loaded with killer laughs.
Both actors are new to the Festival this year. In addition to their work in Murder for Two, they both appear in The Cocoanuts: Wascavage is playing Robert Jamison (Zeppo), and Helm is the associate music director and a member of the band.
Written by Joe Kinosian and Kellen Blair, Murder for Two is directed by Brad Carroll, who has directed numerous Festival plays, including South Pacific, The Comedy of Errors, Les Misérables, H.M.S. Pinafore, and Lend Me a Tenor: The Musical, which he also co-wrote.
Tickets for Murder for Two and for other currently playing shows, Julius Caesar, The Cocoanuts, and The Odd Couple, are all available on the Festival website at bard.org or through the Ticket Office at 1-800-PLAYTIX.
The Utah Shakespeare Festival is part of the Beverley Taylor Sorenson Center for the Arts at Southern Utah University, which also includes the Southern Utah Museum of Art (SUMA).