Festival Announces Nine Plays for 2017 Season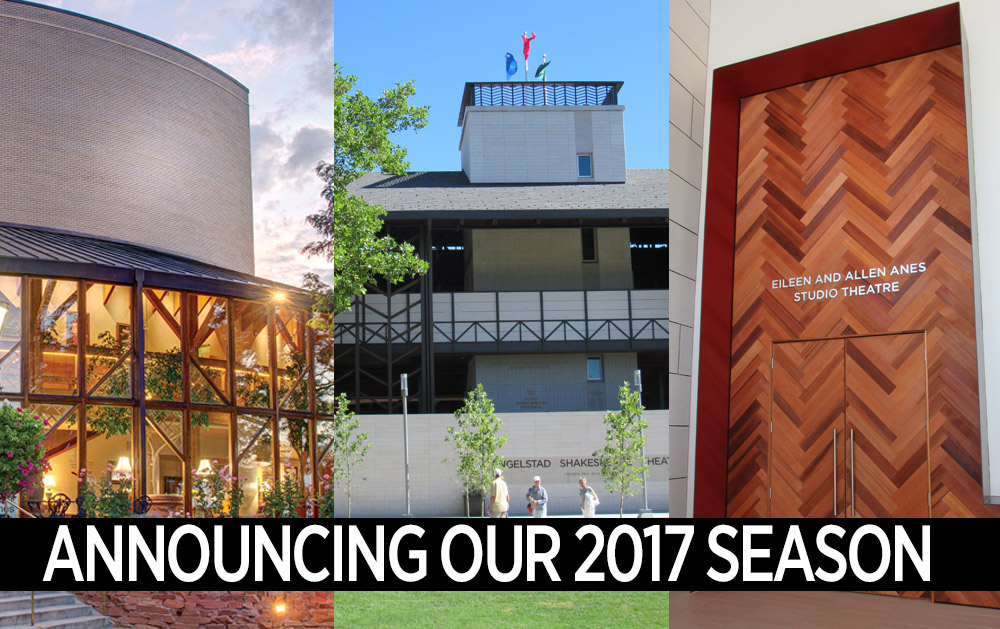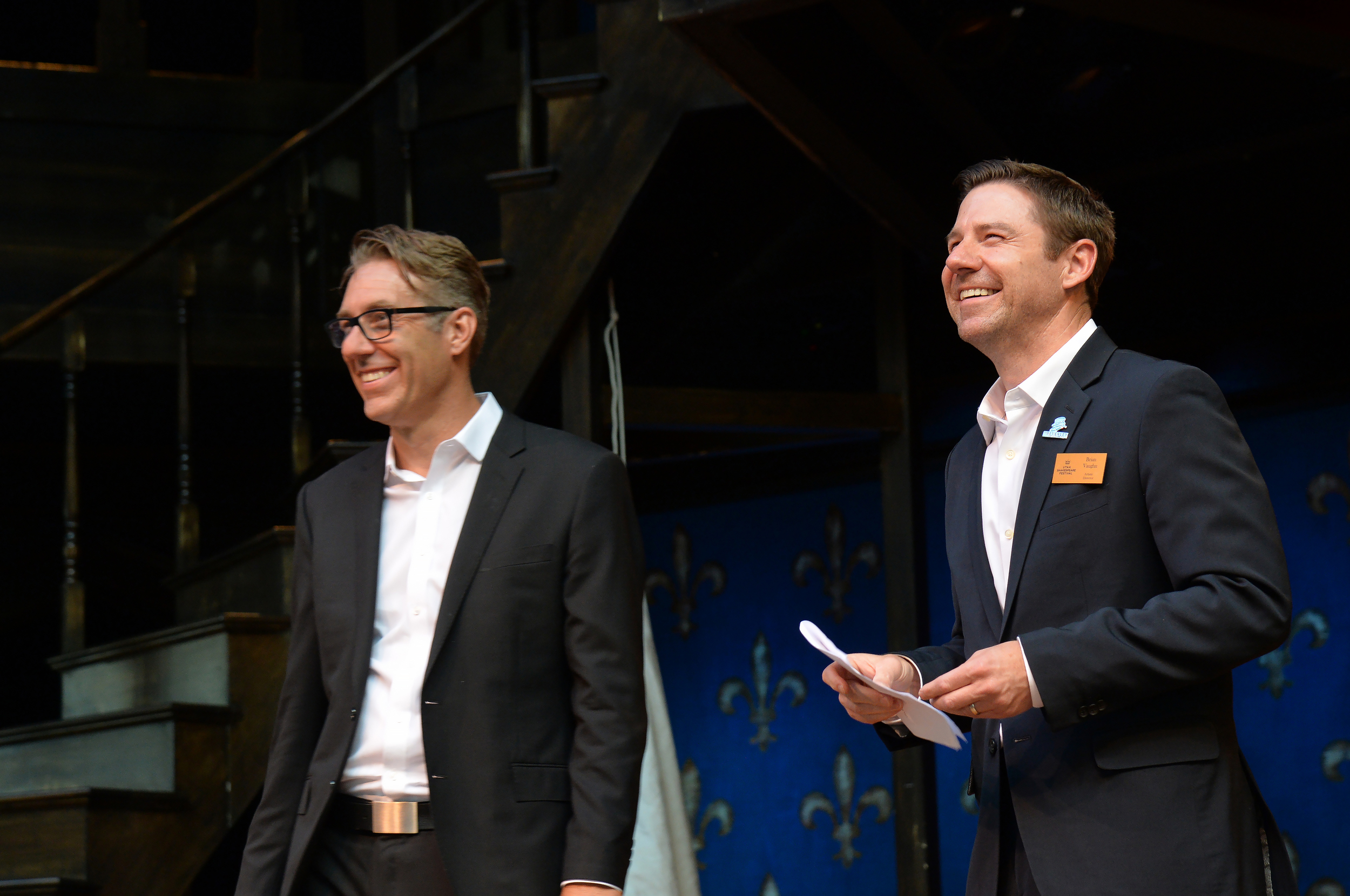 At the end of a three-day celebration of the Utah Shakespeare Festival's 2016 season and the opening of the new Beverley Taylor Sorenson Center for the Arts Saturday night, the Festival's artistic directors shifted everybody's sights ahead, and drew more applause and excitement, when they announced the plays for the 2017 season.
The season, which will run from late June through late October, includes nine plays (one more than in 2016), with five premieres and four enduring classics. Actual dates will be announced soon. Tickets will go on sale beginning in August. Watch the Festival website, bard.org, as well as social media and the electronic E-Globe for updates.        
The Engelstad Shakespeare Theatre
David Ivers (left) and Brian Vaughn, artistic directors
Two complementary plays, William Shakespeare's Romeo and Juliet and the theatrical adaptation of the Academy Award-winning movie Shakespeare in Love, will anchor the Engelstad Shakespeare Theatre. Shakespeare in Love is about young William Shakespeare, who, out of ideas and short of cash, meets his ideal woman and is inspired to write one of his most famous plays, Romeo and Juliet. These interdependent story lines provided the impetus behind the Festival producing these two plays in repertory—with a shared cast and set.
The Festival has been selected as one of three theatres to present the first productions in the United States. It is based on the original screenplay by Marc Norman and Tom Stoppard, with the stage adaptation by Lee Hall. It is presented by special arrangement with Disney Theatrical Productions and Sonia Friedman Productions.
Rounding out the Engelstad Theatre will be the Shakespeare comedy As You Like It. This rollicking frolic of confused courtship between Rosalind and Orlando features beautiful poetry and unsurpassed wit. It was last produced at the Festival in 2009.
Those who have been following the Festival's History Cycle (all ten of Shakespeare's history plays produced in chronological order) may notice that there is no history play in the 2017 season. The Festival will continue the cycle in 2018, using the coming year to develop a production approach for the Henry VI plays which will tell the story of the War of the Roses and the Tudor dynasty in all its artistry and majesty.
The Randall L. Jones Theatre
Four plays will fill the stage in the Randall L. Jones Theatre in 2017, offering a variety of genres and stories.
First will be the classical musical Guys and Dolls, with music and lyrics by Frank Loesser and book by Abe Burrows and Jo Swerling. Considered by many to be the perfect musical comedy, Guys and Dolls ran for over 1,200 performances when it opened on Broadway in 1950. Winner of many Tony Awards and numerous other theatre prizes, it has been frequently revived and has proven to be perennially popular. Featuring such memorable songs as "A Bushel and a Peck" and "Luck Be a Lady," this oddball romantic comedy will find a comfortable home at the Festival.
Next will be the Mountain West premiere of Mary Zimmerman's glorious adaptation of the Robert Louis Stevenson novel Treasure Island. This critically-acclaimed adaptation premiered in a joint production by Lookingglass Theatre in Chicago and Berkeley Rep in Berkeley, California. The Festival is the first theatre beyond them to receive rights to this play. This epic tale based on classic literature will thrill the entire family with tales of buried treasure, cutthroat pirates, the larger-than-life Long John Silver, and the courageous young cabin boy Jim Hawkins. A play with music, Treasure Island is dramatic story-telling at its theatrical best.
Possibly Shakespeare's most beloved comedy, A Midsummer Night's Dream will also appear in the Randall Theatre. This story of fairies, dreams, and moonlight tells the tale of love which never does run smooth, of feuding fairy kings and queens, and of young lovers caught up in the world between waking and dreaming. Perhaps Shakespeare's most accessible comedy, the entire family will enjoy the antics of Puck, Titania, and Nick Bottom and his hilarious band of rustics.
Playing later in the summer in the Randall L. Jones Theatre will be a world-premiere adaptation of the satirical comedy The Tavern by George M. Cohan. Joseph Hanreddy (who adapted Sense and Sensibility for the Festival in 2014) is adapting this hilarious play and shifting the action and plot to locations and characters in Utah that just might feel familiar. As such, it is a dark and stormy night when a mysterious vagabond, a damsel in distress, and a politician all end up at a remote Utah tavern where they try, amid rising suspense and misunderstandings, to solve a recent robbery.
The Eileen and Allen Anes Studio Theatre
One of the motivations for building the new Eileen and Allen Anes Studio Theatre was to provide a space to produce new plays. The 2017 season will see the realization of that with two Mountain West premieres.
First will be nationally-acclaimed playwright Neil LaBute's How To Fight Loneliness, which is receiving a its first staged reading at the Festival this summer, in preparation for this full production in 2017. LaBute recently had two successful shows close off-Broadway and has another, All the Ways To Say I Love You, opening this fall at MCC Theater. He and his work have been recognized with Tony Award nominations and Arts and Letters Awards in Literature, among others. How To Fight Loneliness explores a modern-day husband and wife who are at a life-changing crossroads and struggling to make monumental decisions about life and love.
And last, but certainly not least, is William Shakespeare's Long Lost First Play (abridged), brought to you by the same guys responsible for The Complete Works of William Shakespeare (abridged). The play tells the not-quite factual (well, not at all factual) story of an ancient manuscript purported to be the first play written by William Shakespeare. Using questionable scholarship and street-performer smarts, a trio of comic actors will throw themselves into a fast, funny, and frenzied festival of physical finesse, witty wordplay, and plentiful punning.
"This is a season with something for everybody, and one that propels us into the next stage of our development as a theatre company," said Joshua Stavros, media and public relations director. "As Shakespeare said in Measure for Measure, 'Look forward on the journey you shall go.'"