Festival Celebrates Champions at 2017 Gala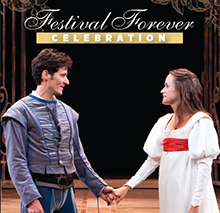 The Utah Shakespeare Festival is honoring the Ashton Family Foundation, Rocky Mountain Power, and Roy and Elizabeth "Tibby" Simmons, as well as retiring Executive Director R. Scott Phillips at the Festival Forever Celebration February 4 in Salt Lake City, Utah.
As in previous years at the Gala, the Utah Shakespeare Festival wants to celebrate the people, foundations, and corporations who have helped make the Festival's dreams a reality.
The Festival is honoring the Ashton Family Foundation, led by Alan and Karen Ashton, for its faithful support and generosity for the past 25 years. Alan and Karen rose to great success from modest beginnings through their global software company, WordPerfect, and are widely considered a leading contributor to the quality of life in the state of Utah.
Rocky Mountain Power is being honored this year for its more than 25 years of corporate sponsorship. Rocky Mountain Power (formerly Utah Power & Light) began its Utah presence in Utah, when Salt Lake City became the fifth city in the world to have central station electricity. The Utah Shakespeare Festival reached a milestone in the early 1990s when Utah Power & Light became the Festival's first-ever corporate sponsorship, a relationship that has continued for over twenty-five seasons.
The Festival is also celebrating Roy and Elizabeth "Tibby" Simmons who made annual trips to the Utah Shakespeare Festival each summer. In 1960, Roy and two colleagues purchased controlling stock in Zions First National Bank and later merged with Lockhart to form Zions Bancorporation. Roy was instrumental in expanding the Festival's board of governors to include members of Utah's corporate leaders. Roy passed away in 2006 and Elizabeth in 2009, but their legacy lives on at the Festival.
R. Scott Phillips is being honored for his more than four decades of work at the Festival. Phillips, who will retire February 28, has continually served the Utah Shakespeare Festival for the past 40 years as marketing director, managing director, and executive director. During his time, he expanded the Festival's audience from 19,000 people per season to 113,000. His crowning achievement was the building of the $39 million Beverley Taylor Sorenson Center for the Arts, the new home of the Festival.
The Festival Forever Celebration will be on February 4 at the Grand America Hotel in Salt Lake City. Tickets are $200 per person, and tables of ten guests may be purchased for $2,000. Reservations are required and seating is limited. Tickets may be purchased at 435-586-7877.