Festival Honors and Remembers Audrey Whipple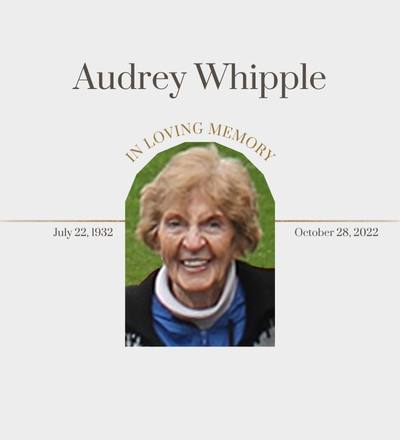 It is with saddened hearts that we acknowledge the passing of our dear Festival friend Audrey Jean Wallace Whipple. 
Audrey was born in Salt Lake City on July 22, 1932, and passed away on October 28 of this year.
She ran Bard's Inn Bed and Breakfast in Cedar City for many years and was a beloved partner of the Festival. Audrey and her husband John Roberts Whipple, known as Jack, operated the bed and breakfast for nearly 20 years before retiring to Salt Lake City to be near family. 
In addition to being an extremely active patron of the Utah Shakespeare Festival, she held various positions in her church, the Red Cross, United Good Neighbors, and March of Dimes throughout communities in Montana, Oregon, Idaho, and Utah. 
General Manager Kami Terry Paul said she met Audrey when she was new to the Festival and Cedar City. 
"She was kind and gracious, and it was easy to see why [she and Jack] had Festival guests returning to stay with them each year during the Festival," Paul said. 
Interim Managing Director Michael Bahr thoughtfully recalled Audrey's friendship with the Festival.
"We loved Jack and Audrey! [They] were wonderfully supportive patrons who developed relationships with Festival patrons, company members and community members," Bahr said. 
Bahr recalled that the couple were active members of the community, delivering large plates of homemade fudge to Festival staff during the Holidays and even hosting guests who visited Cedar City to speak at Southern Utah University. 
"Chuck Metten [former Festival and Southern Utah University employee] utilized their home as he invited special guests to speak at the university, one I especially remember is Karl Malden," Bahr said. "Oh, how generous and gracious [Audrey] was." 
Bahr recalled that their home was a place where artists and patrons met and discussed plays and themes over breakfast.
"Audrey's breakfasts were amazing," Bahr said. "One of my favorite memories was laughing with Chuck Metten and Karl Malden while eating a luscious egg soufflé that was served with an apricot pastry."
We will miss Audrey and her friendship, and express our condolences to her loved ones.  

For more information on her life and to view her obituary, visit audrey-whipple-obituary.