Festival Offers Affordable and Safe Child Care During Plays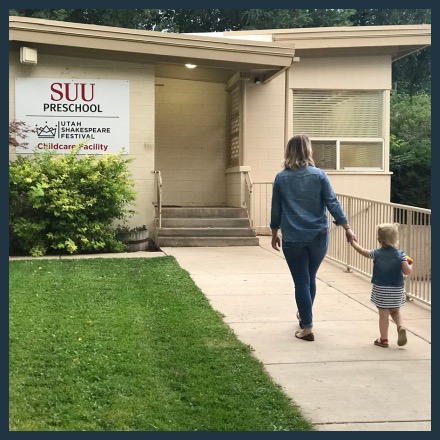 The goal of the Festival's productions are intended to "entertain, educate, and enrich regional and national audiences." With that in mind, the Festival offers professional child care, so that busy parents and caretakers may also more easily enjoy the productions. 
For children up to ten years of age, child care is provided for all Festival plays. Because the program is sponsored by The Church of Jesus Christ of Latter-Day Saints Foundation, it is extremely affordable, just $10 per child per play. 
The facility is professionally-staffed, safe, and state-licensed, located just south of the Randall L. Jones Theatre at 123 South 300 West. 
Manager Kris Cooley has worked at Festival Child Care since 1981, although she started caring for children long before that. 
"When I was twelve years old, [our late Founder] Fred C. Adams asked me to tend kids in his office," Cooley said. "It was always his vision to have child care at the Festival."
That vision became a reality, and Cooley has watched children over the years grow up and return to the Festival, bringing their own kids to child care. 
"They trust their kids to us, which is their most treasured possession, so you create a bond with the families," Cooley said. "We've received wedding and graduation announcements from kids we've watched . . . it becomes a family."
The staff has extensive training, and there is always someone at the facility that is CPR certified. The program meets all state requirements, and Cooley noted that the facility is designed just for kids.
"It's the best job ever," Cooley said. "I taught school for 35 years, so I always had lesson plans and other things to do. At child care, the lesson plan is to be happy, make the kids happy, and make sure everyone has fun." Clearly, Cooley loves children, having spent her summers off between teaching school to manage Festival Child Care.
At the facility, infants receive personalized attention, and are placed one-on-one with a child care worker. The facility is split up, with infants and toddlers in one area and older children in another. This way, the atmosphere, activities, and toys are suited specifically for each age group. There is even a backyard, with sandboxes, riding toys, and climbing equipment for children to explore. 
"We have wonderful employees; we hire good people," Cooley said. "We have elementary principals and librarians and teachers on staff, and the younger staff members are involved in the community, serving on the mayor's council and more." 
Cooley is passionate about the program and wishes more patrons knew about and took advantage of Festival Child Care. 
Please note that children over the age of six may attend mainstage plays, but it's important to visit bard.org to gather additional information about the plays, including content advisories, articles, study guides, and more in order to determine if the play is suitable for your family. 
Children of all ages are welcome at The Greenshow, playing Monday through Saturday at 7:10 p.m. With singing, dancing, stories, music, and audience participation, this is the perfect free and family-friendly entertainment. This season, there are three themes, including The Hills of Appalachia, English Regency Garden Party, and Paiute Heritage and Celebration, which rotate throughout the week. 
During the evening, Festival Child Care opens at 7 pm, so parents have the option of taking their children to The Greenshow and then dropping them off before the evening plays––or bringing them to child care so they can attend The Greenshow and the play that follows without them.
Please note that The Greenshows, Romeo and Juliet, A Midsummer Night's Dream, and A Raisin in the Sun close by September 9. Jane Austen's Emma The Musical, The Play That Goes Wrong, Timon of Athens, and Coriolanus continue running through October 7. Festival Child Care is available through the end of the season. 
To reserve child care, please visit bard.org or the Ticket Office onsite, or call 800-PLAYTIX.