Festival Plans Annual Make-a-Scene Event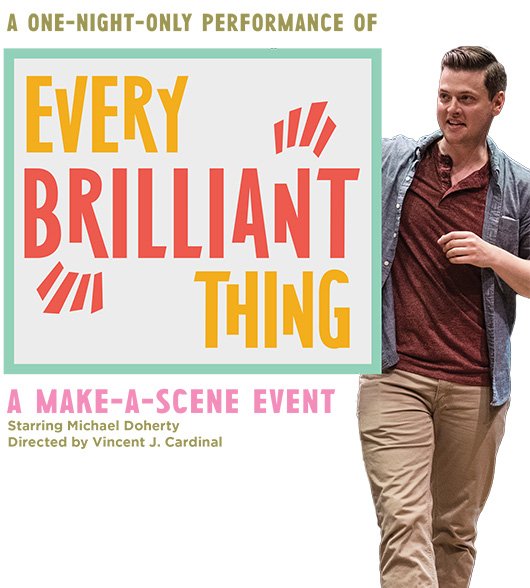 By Liz Armstrong
Cedar City, UT—The Utah Shakespeare Festival has announced its annual Make-a-Scene celebratory event on March 31 at the West Valley Performing Arts Center in West Valley City, Utah. The one-night-only fundraising gala will feature a buffet dinner and a special performance of Every Brilliant Thing starring Festival favorite Michael Doherty and directed by Vincent J. Cardinal.
Doors open at 6 p.m., the buffet dinner begins at 6:30 p.m., and the performance starts at 8 p.m. As in years past, this year's play will feature several surprise visits from political and business leaders and other Utah luminaries most audience members will recognize. 
 "This is always a fun event featuring wonderful Utah VIPs performing onstage alongside great Festival actors, all to benefit the Festival," said Executive Producer Frank Mack. "This play is perfect because it is an audience participation show, so Michael will invite community leaders to participate with him, unrehearsed and spontaneously."
The ticket price is $275 and is all inclusive; no additional fundraising will be part of the event. Table sponsorships are also available.  
"Our Make-a-Scene event has become the most popular and successful fundraising event of the year for the Festival," said Donn Jersey, development and communication director. "It is a festive evening of good food, good friends, and fun theatre."
To reserve a spot, contact Donn Jersey at jersey@bard.org or 435-865-8002 or Emily Cacho at emily@bard.org or 435-586-7877. 
"We are always thrilled to get to work with Michael Doherty, who is such a wonderfully spontaneous and creative actor and who is paired with an amazing director, Vincent Cardinal, for this event," said Artistic Director Brian Vaughn.
Both Doherty and Cardinal will be familiar to Festival-goers. Doherty, who will play the Narrator, was at the Festival in 2021 as Dromio of Syracuse in The Comedy of Errors and The Joneses in The Comedy of Terrors. He appeared previously in *Charley's Aunt, The Foreigner,*and the Festival's production of Every Brilliant Thingin 2019.
Cardinal is returning to the Festival after directing The Foreigner in 2018, Every Brilliant Thing in 2019, and The Comedy of Errorsin 2021. He will also be directing King Lear this summer.
Every Brilliant Thingwas a phenomenal success in 2019, so much so that it was remounted as a touring production to Utah schools to support their suicide prevention efforts. It was performed over 160 times in more than 100 schools. 
When the play went on tour, Governor Spencer J. Cox addressed its efforts in suicide prevention, calling it a "poignant, moving story with the potential to reach students who may be personally coping with depression or who are witnessing its impact within their family or social network." 
For more information about Every Brilliant Thing and the Make-a-Scene event, visit bard.org/make-a-scene.